Research Insights
Will biometric adoption surpass voice?
Will biometric adoption surpass voice?
Published:

January 2020

Analyst: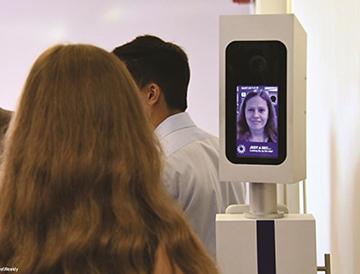 This article is part of a content series that explores some of the most significant technology-driven issues or developments that will shape travel distribution this year and beyond. For more on these hot topics, check out Travel Innovation and Technology Trends 2019.
While biometrics - the measurement and analysis of body characteristics through techniques such as digital fingerprint matching, retinal and facial scanning and recognition, unique heartrate EKGs, gesticulation, and piezoelectric crystal detection (a measure of certain biochemical levels) - may seem more futuristic or something out of a movie, biometrics is actually more of a reality for travelers than many people may realize according to Phocuswright's latest travel research report on tech, Travel Evolutions in Voice Recognition & Biometrics. If you leave the United States on a commercial flight, chances are you may have already had your face scanned. Reported figures have gone from 2 million passengers scanned in April 2019 to 25 million in August 2019. And China already relies on facial recognition technology to enable everything from security to commerce transactions.
Airlines and airports aren't the only beneficiaries of biometrics in travel. Other predictions of the use of biometrics include automated hotel guest check-in and loyalty program guest experience enhancements, access to and use of rental cars, and even autonomous luggage that follows its owner around. In all of these instances, biometrics such as facial or voice recognition and/or digital fingerprint analysis provides the bridge between the traveler and their experience.
As biometric technology rolls out, businesses must proceed with caution and be mindful of both legal constraints and consumer sentiment and concerns. While Chinese citizens may already be used to facial recognition, Americans are just beginning to warm up to the idea. In early 2019, plaintiffs won a lawsuit brought against the amusement park company Six Flags Entertainment Corp for violating the 2008 Illinois Biometric Information Privacy Act. The park stood accused of collecting fingerprint data upon the purchase of a season pass by a teenager without providing to the child or his parents in writing "why the thumbprint had been collected or how long it would be stored."
To read the entire article on voice recognition and biometrics, subscribe to Phocuswright Open Access and unlock it for you and your entire company. For the full report on Travel Innovation and Technology Trends 2019, purchase it here.
---
Stay on top of Europe's travel industry
Attend Phocuswright Europe (4-6 Aug 2020 in Amsterdam) to put your finger on the pulse of innovation, trends and the state of travel in Europe.