Research Insights
Strategizing for Recovery: Latin America's Travel Market is Down, But Not Out
Strategizing for Recovery: Latin America's Travel Market is Down, But Not Out
With a World Bank 2020 GDP forecast swinging from a 1.8% rise to a 7.2% decline, the Latin American region – like so many others around the globe – is also dealing with a steep travel market drop-off. The few rays of success felt in 2019 have been completely derailed by the continuing COVID-19 pandemic.
Difficult to measure as a whole due to the wide diversity between countries, the large Latin American region – already plagued by political turmoil, social inequality and poor public health infrastructure – will suffer a 59% overall decrease in gross travel bookings.
A recent report from travel industry research authority Phocuswright analyzes the total Latin American travel market as well as individual country markets of Argentina, Brazil, Chile, Colombia and Mexico, chosen for their travel market size and impact. The research also measures channel share and online penetration for airlines and hotels, gross bookings for OTAs, and more.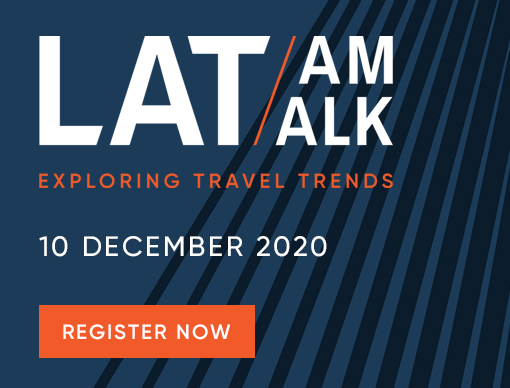 On December 10, 2020, Phocuswright hosts the inaugural LatAm/Talk event (with free tickets). Expert analysts will reveal data from a new research study to educate travel leaders in Latin America about market trends, and create direct conversations with key players in the region - all with a focus on recovery in 2021.
With its annual global Phocuswright Conference being held online in 2020, the company saw the need to create a new arena for its Latin American attendees, facilitating networking and relationships while sharing valuable global data, insights and key regional trends from Phocuswright's analysts. Attendees will hear directly from leaders in the local market on how they are navigating the crisis.
"We are thrilled to produce an event for our growing audience in Latin America. We have covered the region for many years with our research, and it makes a lot of sense to produce an event for the region where we can expose the latest data and trends. The Phocuswright Conference in November has always gathered a large contingent of Latin America travel executives, and we want to continue to provide relevant content to this important market," said Phocuswright's managing director, Pete Comeau.
Kicking off with data, analysis and key findings of travel markets around the globe, the program then shifts its focus to Latin America in a panel conversation with executives in the accommodations space, a conversation with startups focusing on opportunities and obstacles, and an executive interview with a regional OTA, and networking in a robust online platform. View the LatAm/Talk program and speakers.
"Phocuswright produces relevant content for the region and the global conference has been addressing the Latin American travel community for some years now. We wanted to get closer to the region and amplify a direct conversation in a more specialized and focused way. The LatAm/Talk event is an opportunity to discuss regional aspects and for attendees to network with others in the region's travel space," said Phocuswright's Latin American market specialist, Carolina Sass de Haro.
There is no cost to attend the online LatAm/Talk event. The event is relevant for anyone operating in, doing business with or interested in the Latin American travel market.