Research Insights
Three (of Many) Reasons Why Travelers Don't Book Activities Online
Three (of Many) Reasons Why Travelers Don't Book Activities Online
Published:

October 2015

Analyst: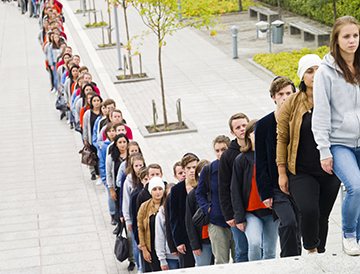 There I was standing in line at the American Museum of Natural History for nearly 30 minutes as my wife patiently entertained two young boys more than ready to see some dinosaurs.
Would I have paid a surcharge to book the tickets on my phone and skip the line with an instant mobile ticket? Absolutely.
Was that an option? Um … no.
It reminded me of this tweet from Chris Dixon, partner at Andreessen Horowitz:
Phocuswright has just completed its third major study on tours, activities and the in-destination experience. If any part of the travel experience were poised to be transformed by mobile, it has to be this one. And yet it remains one of the most anticipated developments in online travel whose time has not quite come: the digital discovery and delivery of tours, activities and all the things travelers do "when they get there."  
For this study, we conducted a global consumer survey of more than 8,000 travelers across eight key markets, analyzed more than 100 startups in the sector, and undertook scores of interviews across suppliers, distributors and technology providers. While progress is happening on all fronts – new technology options for suppliers, improved mobile services, and gradual shifts in traveler behavior – it still pales in comparison to the rise in mobile dining reservations, movie ticket purchasing, or the shifts underway in ground transportation and private accommodation.  
So here are a few of many reasons why travelers do not book activities online:  
There's no good reason to. Really, there usually is just no advantage. There's no price advantage (most suppliers cannot yield manage), no convenience advantage (can't skip the lines or redeem mobile vouchers), or customer service advantage. In fact, there are often disincentives, such as onerous advance cancellation policies, which make no sense when most travelers book the day of because they want flexibility in their vacation schedule.  


Activities are not hotels. Interestingly, while consumers are pretty clear on this, the industry tends to get these two categories confused. Most online intermediaries offer a hodgepodge of options in the "things to do" search results: museums, amusement parks, tours, spa gift cards and airport transfers can all appear in the same result set, usually with no contextualization for the specific trip. Yes – it makes good sense to put a Hilton, Hyatt and Marriott one after the other in a search result. Some online sellers are getting quite good at including home rentals as well. But why should a museum tour and an airport transfer appear side by side?  


Lousy digital merchandising. A few notable exceptions notwithstanding, online presentation of tours and activities still feels stuck in 2005. Uninspiring photos, generic activity descriptions, few or no user reviews remain commonplace. But travelers looking for an experience need more. This set of "Things to Do" search results on an airline website is just one example: an uninspired conflation of ground transportation with activities.

Now, there has also been a lot of change. New startups that tackle these problems continue to pour into the market. The "tours and activities" sector received a shot in the arm with TripAdvisor's 2014 acquisition of Viator, and significant funding rounds for companies such as Zozi, GetYourGuide and Zerve. New, more affordable technology is now widely available to the long tail of small suppliers. And mobile device usage among travelers in-destination has become mainstream.  
I do look forward to being able to tweet: Travelers used to stand around aimlessly, waiting on long lines to buy a paper ticket to get into a museum or attraction. That was actually how it once worked.  
Phocuswright's The In-Destination Experience: Shopping, Dining, Activities & Tours assesses the challenges and opportunities confronting the travel industry today, as well as the emerging technologies and numerous startups poised to remake the in-destination experience. This report: 
Lays out the fundamentals of consumer behavior around tours and activities across eight major travel markets worldwide


Analyzes the key developments in consumer and supplier technology shaping the marketplace


Provides a sweeping view of startups tackling the sector


Examines the key trends and business models poised to redefine the in-destination traveler experience