Research Insights
Quiz: How well do you know the European short-term renter?
Quiz: How well do you know the European short-term renter?
Published:

May 2022

Analyst:
Today's short-term rental (STR) segment has come a long way since its inception. From alternative accommodation to private accommodation and now short-term rental, the names reflect the sector's path to mainstream travel. According to Phocuswright's latest travel research report
Niche No More: European Short-Term Rentals
, a full market recovery to pre-pandemic levels is projected to occur in 2023.
STRs have carved out their position as a mainstream option for travelers booking accommodation during their trips. The pandemic provided further impetus for them to move into the public consciousness, though they are still a long way from dethroning hotels as the leader in lodging. As the pandemic simmers, STRs are likely to maintain at least some of the gains they have made during the last two years and remain a viable option for many travelers in future.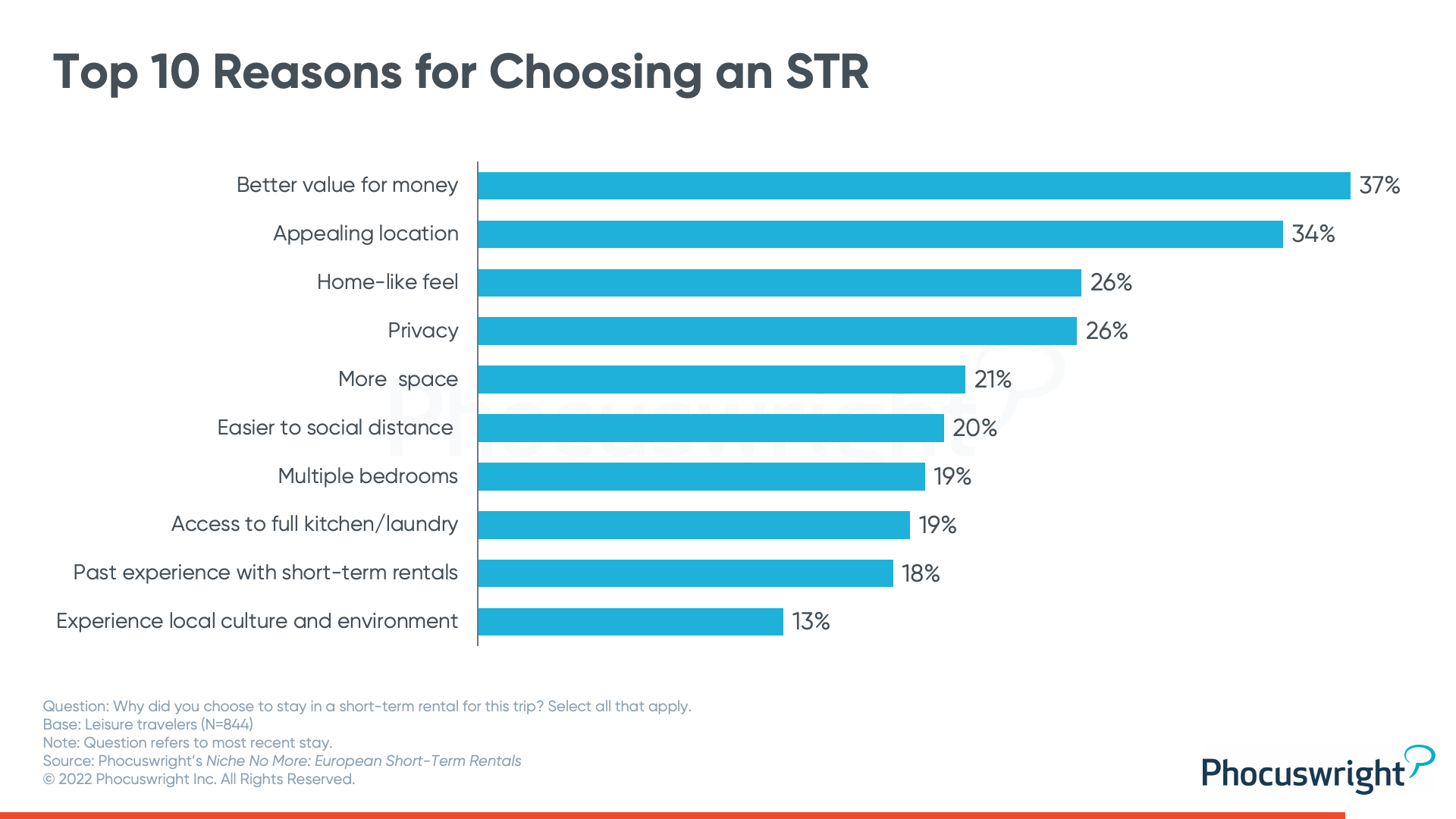 Understanding consumer behavior and booking trends is important for the entire European travel industry as demand patterns shift, supply grows and online booking dominance continues.

How well do you know the European short-term traveler?
Take this quiz and see the answers at the bottom of this page.


This
report
, based on a comprehensive survey of Europe STR users, hosts and property managers, explores changes in the STR landscape from both consumer and business-side perspectives. Attitudes, goals and behavior are discussed in detail, along with sizing and projections for the market.
Niche No More: European Short-Term Rentals
provides an in-depth look into:
The size of the market
How online dominance continues
Market dynamics like guest experience, demand patterns, supply shift and regulatory challenges
A complete profile of the European rental traveler
Preferences of destination and property types
Booking behavior
And more
To gain access to Phocuswright's entire research library of data and insights, enterprise access for your entire company is available through Phocuswright's
Open Access
research subscription.
Clients have relied on Phocuswright's deep industry knowledge to power great decisions, help justify a pitch, build a strategic plan and elevate any presentation through trusted research and data. When companies and executives reference Phocuswright, they gain the trust of an industry keen on data, trends and analytics. Our dedicated customer concierge can answer any questions you may have about the
subscription
and show you how the data visualization and report insights can benefit your entire company.
Answers to the quiz:
Close to a third of European travelers stayed in an STR in 2020, but hotels remain the leader in accommodation with an incidence rate of stay of: Over 75%
Among those who stayed in STRs, the highest share of age is: 35-55 year olds
The percentage of U.K., German and French travelers that ONLY considered a STR is: More than 40%
The most common choice for choosing an STR is: Value for money
The most popular destination setting for an STR is: Beach/ocean