Research Insights
Hotel revenue management opportunities in a dynamic and challenging landscape
Hotel revenue management opportunities in a dynamic and challenging landscape
Published:

January 2020

Analyst: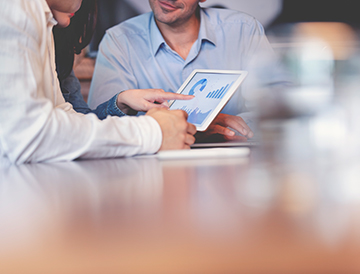 Revenue management and the role of revenue managers has changed dramatically in the past 20 years. Introduced by hotel chains in the late 1980s, revenue management was used to make decisions on room prices and lengths of stay. According to the latest Phocuswright travel research report, Hotel Revenue Management Opportunities in a Dynamic and Challenging Landscape, the field of revenue management has since evolved to support an array of strategic decisions made by hotels, management companies and travel intermediaries aimed at optimizing profit and enhancing the overall value of the physical asset.
As a result, the role of revenue managers has expanded. They influence nearly every aspect of lodging organizations, from marketing and sales to operations. And as the role of revenue management changes, so do the demands and desires for an adequate technology-based solution that addresses the needs of today and the challenges of tomorrow.
Phocuswright, in cooperation with Expedia, conducted an extensive, qualitative study on the evolution of revenue management across the hotel landscape through roundtable discussions and phone interviews with revenue management professionals. The focus of the study is on helping lodging organizations improve revenue performance and overall competitiveness by examining the challenges, changes and potential opportunities for growth. This white paper focuses on the challenges faced by the revenue management function and lodging organizations from the perspective of those who actually perform that task: the revenue managers. Participants in the study included revenue managers from chains, ownership/management companies and independent properties.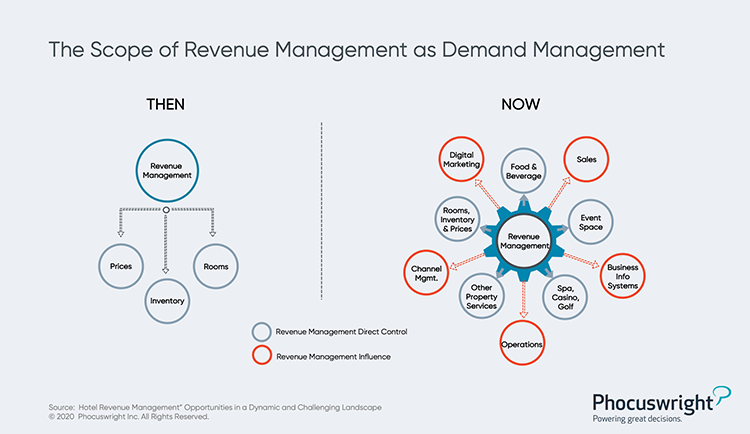 (Click image to view a larger version.)
Overview of Key Findings
Information overload: In a digital travel environment characterized by multiple streams of data, many respondents reported their struggle to identify, access and analyze the data most important to optimizing revenue and profit. Lodging organizations particularly experience a challenge separating the signal from the noise. This challenge is most prevalent among smaller, independent hotels.
Pulling together disparate systems: There remains a lack of systems integration across the different technology solutions utilized by lodging organizations today. These include channel management systems (CMS), revenue management systems (RMS), property management systems (PMS), central reservation systems (CRS) and customer relationship management systems (CRM), among others. As a result, revenue managers must gather information manually. This results in less time for strategy, data-driven decisions and a slower pace of actions.
Dynamic and complex distribution landscape: A fast-evolving distribution landscape featuring numerous distribution channels, rapidly changing market segmentation and competitive sets makes it difficult to deliver effective personalized offers through the right channel to drive conversions.
Filling the information gap: Travel intermediaries (such as online travel agencies, search engines, metasearch and social media sites) track a variety of data points related to hotel marketing, customer analytics and segmentation, destination demand and distribution. But revenue managers struggle to accurately analyze cost per acquisition versus revenue generation and incorporating demand data indicators into their day-to-day decision-making – creating an opportunity for intermediaries to close the information gap.
Expanding role and impact of revenue managers: The role of the revenue manager is growing. It is shifting from rate and inventory management to total hotel revenue management. This places revenue managers in a unique leadership position at lodging organizations. In addition to an increased focus on optimizing profit, revenue managers often influence data-driven decisions across the entire organization (i.e., between revenue management, marketing, sales, distribution, loyalty and hotel operations). They are being asked to lead organizations' efforts to increase revenue (contribution) for owners.
To read the entire whitepaper, with a further breakdown of all 5 key findings, download it here (for free).
For more expert analysis and insights, with access to the entire Phocuswright research library for your entire company, subscribe to Open Access here.