Research Insights
Travel industry not there yet when it comes to gender equity
Travel industry not there yet when it comes to gender equity
Published:

December 2019

Analyst: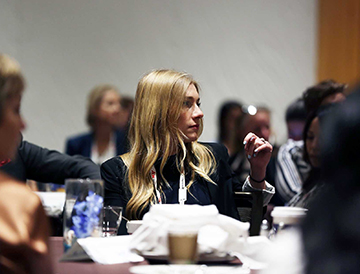 This article was originally published on PhocusWire.com, Phocuswright's sister brand and news site.
Fewer than half of respondents to a recent Phocuswright survey rate the travel industry as above average or excellent regarding gender equality for career development and management opportunity.
Of the 488 respondents to the 2019 Gender Equity Study, 46% of the men chose a rating of four or five on a scale of one to five (one being poor, five being excellent). And the women responding see the industry as even less equitable – only 21% chose a rating of four or five.
Phocuswright analyst Claudia Unger shared this data and much more from the report at the company's third Women's Leadership Initiative session held during The Phocuswright Conference in Florida in November.
The survey also found far fewer women believe leadership opportunities are equally available to all in the travel industry – only 35% of female respondents answered yes compared to 55% of men. And only 25% of women see a clear path for leadership cultivation, while more than 40% of men do.
Male and female respondents did agree that "absence of a plan (leadership track) to cultivate talent" is the primary obstacle travel professionals must overcome in order to rise to leadership positions.

(Click image to view a larger version.)
In a discussion among the 170 attendees, Intent CEO Richard Harris – a Phocuswright LeadHER advocate and panelist at the session - says the first step to building a diverse and inclusive culture is to be "extraordinarily conscious," starting with investing extra effort when recruiting applicants for open positions.
"You need to demand a diverse slate of candidates," he says.
"There's always this trade off you hear about, particularly in technology – which I think as a leader you have to reject – and that trade off is, 'Wait a second, if we are going to try to form a diverse and inclusive team, are we going to lower our standards?' I hear that all the time, and you have to reject that from the outset because it is just false."
Beth Taylor, ATPCO director, head of marketing – and also a LeadHER and session panelist – agrees and urges travel companies to "expand the aperture" beyond candidates that come from within the industry.
"If your pool is smaller of those that have industry experience, then you are already limiting yourself," she says.
"You can build industry experience. I'm in my third year, and I can talk dynamic offers with the best of them. You need to find smart people and bring them into the room."
Regarding workplace policies, Expedia Group director of global diversity and inclusion and a panelist and LeadHER Lauren von Stackelberg says it is important to be fully inclusive across genders and issues that impact employees.
"There are a lot of people that work for us that don't have children. There are a lot of people caring for elderly parents. Or caring for children and parents. And there's mental health in general. People's work-life balance is impacted by a lot of things," she says.
"So try to think of what are all the reasons someone might need that balance and give them equitable treatment when they come back [from leave]."
Following the session, Phocuswright's Unger; Coleen Kuehn, executive vice president and general manager, travel, media and entertainment at Merkle; and Jillian Kossman, director of marketing at iSeatz, joined PhocusWire news editor Jill Menze in our studio to discuss the research further and share the initiatives in place at their respective organizations.
Watch the panel below.
Download the highlights of this study to explore availability/cultivation of leadership roles, obstacles, skill ranking, diversity initiatives, mentoring programs and more.
Interested in global primary research that informs your strategy every step of the way? Subscribe to Open Access and unlock the entire Phocuswright research library for you and your company. Learn more about subscription features and benefits here.
---
Stay on top of Europe's travel industry
Attend Phocuswright Europe (4-6 Aug 2020 in Amsterdam) to put your finger on the pulse of innovation, trends and the state of travel in Europe.