Research Insights
European Business Travelers Lead the Way on Mobile
European Business Travelers Lead the Way on Mobile
Published:

December 2017

Analyst: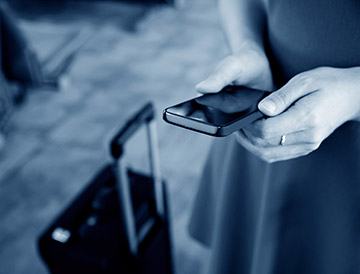 When Steve Jobs introduced Apple's revolutionary mobile device in 2007, he proclaimed that the iPhone's "killer app is making calls." Nearly 11 years down the road, a world of other capabilities and an explosion in computing power have transformed what consumers do with their phones. And for many, making phone calls is now little more than an afterthought. As the iPhone and other smartphones morphed into powerful handheld computers, travel industry observers speculated about when and how smartphones would alter the travel search, shop and buy experience, not to mention the journey itself.
Judging from the behavior of business travelers in several key European markets, travel's mobile moment appears finally to have arrived. As a relatively young population of frequent travelers, European business travelers are an interesting segment to monitor regarding new technology trends – and they're leading the charge when it comes to adopting and using smartphones and other mobile devices. At least six in 10 business travelers in France, Germany and the U.K. used a mobile device to shop for or book a flight or hotel in the past year, a significantly higher share compared to consumers who travel purely for leisure.

(Click image to view a larger version.)
And it's not just about shopping and booking via mobile; nearly twice as many European business travelers use their smartphones as a boarding pass compared to pure leisure travelers, and three times as many purchase extra services from travel providers on their smartphones.
From making on-the-go payments to using ride-sharing apps and much more, Europe's road warriors are leveraging their mobile devices at all stages of the journey. This behavior, along with advances in artificial intelligence and personalization, points to a future in which mobile devices will play an even greater role for all travelers and their trips.
For more on the intersection of travel and technology in Europe, check out European Business Travelers: How They Use Tech For Travel, one of five publications in the European Traveler Technology Survey Series.
RELATED RESEARCH:Inside the Mind of the Modern Road Warrior
---
More on European Traveler Technology
The 2018 Phocuswright Europe (May 15 - 17 in Amsterdam) conference will cover hot topics such as alternative lodging, Direct Connect, tours and activities, innovation in travel – plus a deeper dive with WIT into Asia from two perspectives.
Early Bird Pricing (Save 47%) Ends Friday, December 15!