Research Insights
2015 Travel Innovation Summit Roundup
2015 Travel Innovation Summit Roundup
Published:

November 2015

Analyst: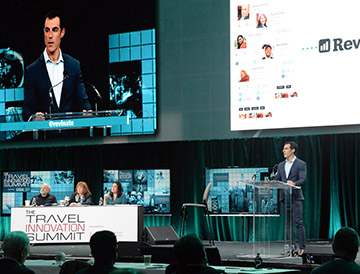 For eight years, Phocuswright's Travel Innovation Summit has showcased the industry's most promising startups, and has given them a stage to present their ideas to the industry's movers and shakers. This year, Phocuswright introduced a few changes, including the introduction of The Battleground ( summarized by Douglas Quinby here), a rotating set of industry "Dragons," as well as splitting the event over two days. Having helped prepare presentations for two Travel Innovation Summit events in the past, I wanted to present an entrepreneur's take on the innovators, as well as outline some key trends I saw. As a disclaimer, the opinions below are purely mine and not those of Phocuswright.

Here are some of the key business and presentation trends I noticed across the innovator landscape:
Virtual, on-demand travel assistance: Both The Battleground and the main Travel Innovation Summit featured several innovators showcasing their solutions in this area. While the mechanics and methodology of how this will work will undoubtedly be fought in the market in the coming years (expect several more big entrants in this area), the focus on this trend is well-deserved. Virtual agents can not only dramatically enhance the productivity of existing human-agent-based businesses (e.g. TMCs), but present an opportunity to shift top-of-the-funnel content away from Google. An interesting area to watch.
A focus on ease of implementation: More than a few innovators - especially those with traction - presented B2B solutions that can be implemented with as little as one line of code.
Increasing direct bookings: Nearly every hospitality-focused innovator presented ways to help hoteliers capture more bookings directly. 
It pays to know your metrics: Without a doubt, the strongest, high-scoring presentations were the ones where innovators showed a true understanding of their core business metrics. 
This year's Travel Innovation Summit was larger than ever in terms of the number of innovators. Below is a matrix showing the core vertical categories of the startups and how many innovators we saw in each. Some innovators spanned multiple verticals: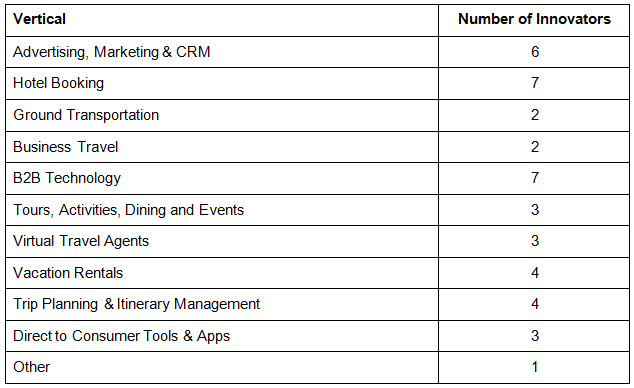 Let's move on to the innovators:
ADADYN is a self-service programmatic advertising platform enabling small and medium-sized travel brands to take control of their programmatic ad campaigns. Adadyn stated that over 70% of spend in display advertising is driven by programmatic ad buying, and that the market is dominated by large players focusing their efforts  and pricing models - towards large, enterprise clients. Adadyn's solution is purely focused on the SMB market and priced as a SaaS solution.

» My take: While the dragons didn't particularly get excited about programmatic ad buying, I think this is a great business. It's just not travel innovation.

AFRICABOOKINGS LTD is a SaaS-based content and channel manager for hotels based in Africa. With a $14 billion market opportunity for the whole continent, the company aims to deliver reservation management tools to hotels not yet using a PMS, and distribute that inventory through an outbound API.
» My take: There's undoubtedly a large amount of inventory yet to be rolled up in this geographic area. This team will need to use its first-mover advantage to build a significant on-the-ground sales presence to find this inventory before any other, established competitors start to catch up.

AIRHELP - the Emerging category Runner-Up - presented their delayed flight compensation solution that scans a traveler's email inbox for itineraries (up to three years into the past) and automatically requests EU 261 compensation from airlines whose flights were delayed due to operational issues. Since EU 261 compensation entitles the traveler up to 600 euros in compensation if a flight is cancelled, there is a significant upside for the traveler. Airhelp takes a 35% share. Airhelp's technology can automatically detect whether the flight's delay reason entitles the traveler to compensation and handles the claims process.
» My take: This product is a no brainer for so many people - whether individual travelers or TMCs looking to offer this to their customers - that AirHelp is certain to face more competition going forward. In a competitive market, product and marketing will help set them apart, and claiming their solution as "Justice as a Service" is simply brilliant. Though AirHelp didn't talk about its successful claims rate or how long claims take - airlines are notorious for systematically fighting EU261 compensation claims - the presentation was nonetheless great.

CLICKTRIPZ provides price comparison widgets that display live OTA rates for the same property and dates on hotel websites, helping consumers feel confident they're getting the best rate without shopping 20 other sites first. By combining ease of implementation - a single line of JavaScript is embedded onto the hotel's website with a commercial model that makes the solution free for hotels, ClickTripz has brought over 1 million rooms onto their platform. ClickTripz earns revenue from the OTA partners it works with.

» My take: In addition to a clear and concise presentation, ClickTripz was one of the few presenters that actually mentioned their competition and what set them apart from it (live rates from OTA partners). But I wonder just how enthusiastic hoteliers will stay for this over the long term. Will they want live links to their competition on their own websites?

CONXXE presented a ground transportation app offering both pre-arranged and on-demand transportation options. It also offers its solution via API and white labels, currently in use by Singapore Air, Thai Airways, Ctrip and others. 

» My take: Ground transportation is a huge focus area in the travel industry and recent funding rounds for some players have been nothing short of stratospheric. One of the biggest elephants in the room for Conxxe is Uber, whose app for on-demand ground transportation is extremely prevalent and well-funded. And Uber isn't sitting still on the B2B front, either.

CORNERSTONE INFORMATION SYSTEMS' "4site" trip disruption and re-accommodation engine constantly monitors a traveler's itinerary and, using an advanced rules engine, suggests alternate rebooking options in case of travel disruption.

» My take: We've seen a few of these solutions this year and in previous years. Cornerstone stated what set them apart was that they're working with 300+ TMCs to automate their flight re-accommodations in case of flight disruption. Helping TMCs drive their costs down is a great thing - but this isn't innovation anymore.

EVERGAGE has developed a version of its real-time personalization technology aimed at the travel industry. The product dynamically tailors website messaging and other content by analyzing traveler data such as CRM data, click data and historical behavior. For example, a traveler searching for hotel rooms for two adults and two children on a hotel property's website may receive custom offers for family packages. Traveler profiles and segmentation can be configured via a simple, WYSIWYG-style dashboard.

» My take: The product looked great and it's likely that it can deliver improved conversions. The Dragons pointed out that large travel companies will want this type of solution run by data science teams in-house, limiting its potential at the upper end of the market.

EYSYS uses machine-learning algorithms to help deliver personalized shopping results based on a wide variety of factors. It combines a recommendation engine, search engine and CMS to help travel brands effectively merchandise to their customers.

» My take: The product looked very sophisticated and technically complex, prompting the Dragons to wonder whether one needed to have a data science team in-house to use it. Since the product requires deep technical integration for a customer to realize its use, a demo comparing a customer's site pre- and post-implementation likely would've been a lot more effective.

FUSION presented their ancillary upsell solution that enables a travel commerce site to provide relevant, timely upsell offers in the purchase path. The solution works on any travel site by integrating a pixel that presents relevant upsell offers based on the itinerary information that's present on the user's screen.

» My take: I'm a big believer in ancillary revenue programs like the one Fusion is offering. One of the biggest challenges they'll need to overcome is that the very largest sites - the ones with the most potential from a revenue perspective - will likely do this themselves and build direct ancillary supply relationships. 

GUIDDOO WORLD is a smartphone app that claims to be a one-stop shop for a traveler's in-destination needs, combining tours and activities bookings, restaurant listings and reservations, travel guides, and other content.

» My take: One of the biggest challenges Guiddoo will face is overcoming the episodic problem of a traveler only needing this app once or twice a year. Furthermore, the tours and activities market - especially in Guiddoo's Southeast Asian focus area - is incredibly immature, especially on the supplier side. Finally, there's nothing preventing tour and activity market leaders from launching this feature.

HEADOUT presented their last-minute tours and activities booking app that features inventory only available within the next 24 hours. With 14 times more last-minute inventory than their competitors, Headout hopes to help tours and activities suppliers fill last-minute slots on their tours. Dynamic pricing is also used to help encourage bookings as the tour's departure time nears. The company also presented an SMS-based concierge feature built into the app that acts like a virtual travel guide for suggestions.

» My take: Dragon Renee Walsh understandably had several very probing questions for the fledgling startup, including how Headout is able to encourage activity suppliers to manage inventory in such a last-minute fashion. Because suppliers are notoriously bad at paying attention to their inventory across many extranets, this is an issue Headout can only solve by bringing suppliers a lot of bookings. Headout didn't talk much about their user acquisition plans, and I wish they had. Someone is going to crack this "HotelTonight for Activities" problem.

HELLOGBYE demonstrated a voice-controlled, intelligent mobile travel assistant. Priced at $10/month on a SaaS basis, the solution offers travelers an app that enables them to speak their travel requests into the app ("I need a flight from Denver to New York on Tuesday") and receive personalized results based on their preferences and previous requests.

» My take: As I already mentioned, I believe this is an area to watch: Messaging-based travel assistance clearly has a future. HelloGBye's speech feature seemed a bit gimmicky: Voice recognition is still not being done very well even by the largest players. The monthly pricing model will also likely need to change in order for HelloGBye to receive widespread adoption.

HIPMUNK used The Travel Innovation Summit to announce "Hello Hipmunk," a personal travel agent that is controlled via e-mail. Unlike other entrants who required dedicated apps, Hello Hipmunk's interface is email, enabling travelers to email travel queries to [email protected] and receive results instantly. The company also presented Hello Calendar, which syncs with a traveler's calendar and suggests travel options for appointments already on the traveler's calendar. For example, a traveler living in San Francisco who has a meeting planned for Chicago may automatically receive flight suggestions from San Francisco to Chicago via email when the meeting is put on their calendar.

» My take: Hipmunk is the most serial entrant to have taken the Travel Innovation Summit stage this year, and it showed. The presentation was clear, the product was incredibly easy to understand, and Hipmunk CEO Adam Goldstein presents well. Hello Hipmunk was part of a group of several "virtual assistant" entries in the main Travel Innovation Summit but certainly felt the most polished. Will these features make Hipmunk a household name beyond the audience that already knows about them? Probably not. But it's likely to significantly help engagement and repeat bookings.

HOMETOGO is a metasearch site for the vacation rental industry. It has integrated over 150 providers of inventory comprising over 3.5 million properties.

» My take: The vacation rental market sure is fragmented, and metasearch works especially well for it. But there are a lot of eyeballs on this space, so HomeToGo needs to find a way to set itself apart.

HOTELP2P aims to be a commission-free mobile hotel booking app. Aimed at small and independent hotels, the app enables the traveler to connect with an independent hotel owner/manager to make bookings/requests/etc. The app has a hotelier mode where the owner/manager can manage travelers' incoming requests and communicate with the guest. Unlike other booking solutions, HotelP2P does not work on commissions, instead charging a monthly fee to the hotelier for using the solution.

» My take: HotelP2P billed this as the "Uber for Hotels" but I didn't quite understand how they were going to acquire customers on the traveler side. Uber spent billions of dollars becoming a consumer brand, and HotelP2P will have trouble doing that by only charging a monthly fee to hoteliers.

IBS SOFTWARE SERVICES demonstrated their iTravel Content Aggregation engine that enables an agency to manage their supplier connectivity in a friendly, WYSIWYG fashion. The solution also enables non-technical staff to design and build connections to new suppliers they start working with.

» My take: There's likely a lot of cool, innovative technology behind this solution, especially in the do-it-yourself connectivity builder. But this highly technical product just didn't grab the Dragons' attention.

LEISURELINK helps vacation rental managers with their online distribution by offering a channel and content manager. Features such as contracting, yield management, and other services are also part of the offering. LeisureLink works with over 1,000 property management companies representing over 200,000 units.

» My take: LeisureLink is undoubtedly a great business - they mentioned they were on track for $50 million in revenue next year - but I couldn't help be distracted by the awful video. Product videos are not easy, and this one didn't connect with the audience or the Dragons.

MILESTONE INTERNET MARKETING presented a digital marketing suite aimed at the hospitality sector that integrates multiple digital marketing tools such as web analytics, social marketing, reputation management, email marketing and search marketing into a single dashboard. The company claimed the average hospitality e-commerce manager spends over $2,500/month on managing reports across all of the above tools. Milestone's solution gives marketers a lens across all channels and helps them understand that one action (like a social media promo) affected another (like their website traffic).

» My take: Non-travel-specific solutions from Hubspot already offer this functionality, albeit at a much higher cost. So while this solution clearly isn't technically innovative, having a hospitality-focused product at much lower price point has legs.

MOXIE is a SaaS-based customer engagement solution that enables a travel site to offer a real-time chat or messaging-based concierge service across desktop and mobile. The technology captures a variety of data points about the traveler automatically (what site the traveler arrived from, etc.) and provides that information to the virtual concierge, enabling them to more intelligently serve the traveler.

» My take: If you're looking for a presenter that not only energized the room but spoke with such excitement you couldn't not like him, Moxie's VP of products Nikhil Govindaraj is your man. This should serve as a notice to future entrants: If your product isn't particularly exciting, your presentation can more than make up for it. Presentation aside, Moxie's product looks like an easy way to drive customers down the funnel. Worth a look.

MOZIO demonstrated their on-demand ground transportation booking platform. While Mozio already provides a web-based advanced booking platform available in 2,000 airports around the world, the addition of an on-demand solution is meant to provide third-parties who integrate Mozio's solution into their app with the ability to offer on-demand car requests from launch partners Lyft, GrabTaxi and Ola.
» My take: The Dragons didn't particularly like it and said Uber is going to dominate this area. For example, Uber already has a few prominent in-app partnerships such as with United and Hyatt. Mozio has built itself a great business with their advance booking platform and I think it should stick with it.

MTT presented their intelligent mobile travel assistant which guides the traveler through every part of their journey, including elements such as a digital packing checklist, airline check-in reminders, baggage allowances, ancillary upsell opportunities, wayfinding and arrival guides. The product is being used by easyJet on a white-label basis.
» My take: The product looked to be a great "Swiss army knife" of features. I just don't see the business traveler making regular use of it. As a frequent traveler, I know what to pack, whose airline app to use to get my optimal seat, and where to go when I land. The leisure traveler will likely be the sweet spot for this technology.

MUSEMENT'S "things to do" booking engine combines tours and activities, restaurant reservations, and event tickets into a single booking platform. Live in over 300 cities worldwide, the company also offers an app as well as a B2B2C platform enabling other travel sites to offer a white-label version of Musement or integrate their offerings via API. The company earns money based on commissions earned from booked products.

» My take: I liked Musement's product but I fear that they're biting off way too much at once. Tours and activities are fragmented, restaurants are fragmented, and events are fragmented. Entering a two-sided marketplace model in three separate fragmented markets seems beyond ambitious. It's going to be crushing.

PROXCE - the winner in the Startup Category - presented an iBeacon-based identity manager that enables a traveler to seamlessly check in to any hotel. Similar to keyless entry programs from Starwood and Hilton, Proxce detects a traveler's arrival on a property via iBeacons deployed at the property and enables the guest to bypass the front desk and directly enter their room with just their smart device. By employing federated identity management, Proxce does not need to store the guest's identity centrally.

» My take: Proxce clearly wowed the judges and there's tremendous opportunity in this space - especially if Proxce can charge hotels 50 cents per check-in. However, the very utopian view of a traveler's identity seamlessly working from property to property is still hampered by numerous industry-wide challenges including a widespread lack of bluetooth-enabled locks, PMS integration difficulties, and hotels' protectiveness of their guests' data. I'm personally looking forward to this innovative idea succeeding if Proxce can overcome those challenges.

QALENDRA INC. presented a data mining solution that enables Qalendra to offer recommendations on the best conditions for vacations, sports and activities. Qalendra can be integrated into a travel provider's website and offer contextually appropriate recommendations for the inventory available on that site. For example, if a travel site offers ski packages, Qalendra could predict the best place to take a ski vacation based on the traveler's indicated timeframe.

» My take: I imagine there's a lot of cool technology under the hood here. During the Dragon interview phase, Qalendra explained an example where they were able to predict snowfall averages months in advance, stating "God [can predict] the weather 99.8%. We are at 99%." I see the applications for this technology outside of travel as having far greater potential for this startup.

QYER is the largest travel community website in China, with hundreds of millions of pieces of content available to its base of millions of Chinese travelers. Qyer demonstrated their trip planning solution "Planoi" targeted at international (non-Chinese) travelers, which enables travelers to plan and customize their trips. The solution includes a recommendation engine and analytics to offer travelers optimal travel plans.
» My take: Qyer has a lot of credibility through its main business and I am certain that the trip planning features on their China-oriented site is performing well for the Chinese outbound market. But for the Western market, like the many other trip planning sites we've seen, I just don't see it working.

RAKUTEN INC. presented their "customized page" feature which enables hotels selling inventory on Rakuten's travel site to individually customize their hotel's page by applying one of 20 pre-defined, mobile-optimized templates. Rakuten believes that by enabling its partner hotel properties to individualize their listings on Rakuten's website, the traveler will be able to get a greater understanding of the hotel property without leaving Rakuten's site.

» My take: I was initially skeptical of the true impact this might have on conversion. It's no accident that Booking.com - one of the most heavily A/B tested sites in travel - has settled on uniformity instead of diversity in design. Then again, Rakuten claimed a nearly 50% revenue bump for hotels trialing this solution. 

REVINATE - the Established category winner - uses big data to help hoteliers deliver a personalized experience to their guests. The solution uses separate data sources (such as social profiles, past guest behavior, etc.) to create a rich guest profile and offers the hotelier a marketing automation suite to send the guest better offers. For example, a hotelier might send a bottle of wine to the room of one of its guests who has been identified as a wine lover. The solution is offered to hoteliers on a SaaS basis and is used by over 25,000 hotels worldwide.
» My take: Dragon Miriam Moscovici wondered how Revinate could find out a guest's identity and figure out their preferences based on name alone, and this hints at the size of the engineering challenge Revinate has on that front. There are a lot of non-travel companies working on this problem, and Dragon Flo Lugli wondered how Revinate set itself apart from the competition. Revinate responded that it is directly integrating with hotel PMSs. These PMS integrations are difficult, but doing these integrations creates a deep competitive moat that will be hard to attack. A deserved win.

SABRE HOSPITALITY SOLUTIONS presented a portion of In-Context Suite that enables hoteliers to overlay live rates and availability on the parts of their website that inspire travelers the most: photo galleries, room pages, etc. Sabre contends that 45% of bookings are inspired in those parts of a hotelier's website and hopes to help capture more direct bookings that way. Integrated with a single line of code, the solution works across hotelier websites, whether Sabre Hospitality powers the site or not.

» My take: Sabre Hospitality powers a lot of hotel websites and understands that even a small increase in conversion can have a meaningful difference. While the Dragons questioned the innovative nature of this solution, Sabre's claimed 15% conversion lift is a great thing for hotels.

SUITENESS is a suite-only booking engine targeted at consumers. Claiming that the hotel industry isn't doing a particularly great job at making the highest end suites bookable online (still too much "Call to Book"), Suiteness's booking platform gives consumers access to price to compare this inventory for the first time. The company claimed a $2,400 ADR for its bookings and nearly every big property on the Las Vegas Strip as customers.

» My take: Suiteness' Robbie Bhathal did an absolutely fantastic job presenting. He knew his market and metrics, and he showed that Suiteness had identified a very profitable segment of the market that wasn't being effectively served by the industry. While I agree with Dragon Chris Hemmeter that the worldwide market likely isn't as big as Suiteness thinks, I love entrepreneurs that find underserved gaps in the market.

TANSLER INC. - the Emerging category and General Catalyst Award Winner - presented their reverse auction/name-your-price vacation rental booking solution. A traveler indicates their intended destination and receives a list of multiple properties. The traveler's selected properties are then invited to bid on the traveler's stay. Tansler claimed 500,000 properties on their site. The site charges a 6% service fee to the traveler and a 3% service fee to the host on successful booking.

» My take: I am not surprised Tansler won two awards, and I'm happy they did. The presentation was very visual, the value prop was clear, they showed they understood their metrics, and they presented several very smart little tricks they're using to encouragement engagement on their site. The Dragons loved this and so did I. This company will do very well.

TRAVEFY - the Brand USA Marketing Award Winner - presented their group travel booking solution. Travelers are able to arrange trip plans as a group, split payments, and make use of other features such as expense management. The solution can be white-labeled or used via API. Customers include HomeAway and several DMOs such as Visit Lincoln.

» My take: The Dragons were worried about the defensibility of the product, and I agree. Travefy's trip planning features weren't nearly as interesting as its expense splitting and management features. While those ideas are innovative, they're also fairly easy to replicate.

TREKKABLE - winner of the 33Entrepeneurs Best Team award and a Battleground winner - presented their platform aimed at the accessible travel market. The startup collects data on ADA-compliant (Americans with Disabilities Act) hotel rooms and assigns them an accessibility rank based on a wide number of data points (for example, height of bed or width between bed and dresser). Trekkable claimed over 30 million accessible room nights are booked every year in this market representing over $17 billion in spend in the U.S. alone. The solution is currently an API for other travel sites to integrate, but Trekkable also plans their own B2C booking engine.
» My take: Presenter and CEO Benedict Jones certainly made one of the most impactful presentations and received a great reception from the audience. In an industry that frequently loses itself in nerdy technology designed to increase conversion or shift market share, it's easy to forget that the industry sometimes fails at basics like this. Trekkable faces a huge challenge on the data-gathering front - there are probably millions of data points to collect - but this is an area where a startup can work together with big industry players to make a big difference for accessible travel.

TRIPBAM - a Battleground winner - presented their post-purchase price shopping solution that enables business and individual travelers to set a price monitor on their existing bookings. TripBam enables the traveler to set a variety of parameters to alert the traveler when the hotel they booked (or a similar nearby hotel) becomes cheaper after they book. The solution then cancels and rebooks the room automatically based on the parameters the traveler has set.

» My take: Industry veteran Steve Reynolds is working with 15 of the top 20 TMCs, doing 100,000 bookings a day, and serving over a thousand other companies. Hard to argue with those results and TripBam deserves a lot of credit for building this business in just a few years. I'm just not sure what this was doing in The Battleground (which was geared for early-stage startups).

TRIPCHAMP is a technology platform aiming to provide a seamless, modern marketplace for suppliers to market and manage their supplier contracts to corporate travelers and TMCs. TripChamp stated that their solution could reduce the amount of time it takes to integrate a new consolidator from 45 days into just 1.5 hours, leveraging artificial intelligence in the process. For the business traveler, TripChamp provides a modern booking and recommendation tool that learns a user's preferences over time and continuously improves their results as travelers use the engine more.
» My take: While the Dragons were skeptical and mentioned that some GDSs have spent north of $2 billion building their versions of this, TripChamp has a good exit opportunity with someone in the business travel space if their technology is as sound as they say it is. 

TRIPCREATOR is a trip planning solution combined with a recommendation engine, enabling a traveler to plan and book their travel in a single place.

» My take: Trip planning has been tried, tried again, and then some. It just doesn't work for this audience, and based on previous results, it certainly won't work as a business.

TRIPTEASE demonstrated their suite of products aimed at helping hotels increase direct bookings. The first product is an onsite price check widget integrated with a single line of code on the hotel's website that shows live, competitive rates from OTAs. Showing these rates is intended to decrease cart abandonment due to the consumer checking prices on other websites. Triptease claims its main competitive advantage over other solutions is their rate accuracy of 99.85%. The second product is a data-driven messaging solution that delivers personalized offers and messages to incentivize the traveler to continue their booking directly. For example, a traveler might receive a popup to leave their email address to "hold this price for 72 hours," enabling the hotel to send an email to the guest to encourage a direct booking at a later time.
» My take: This was yet another presentation where the company explained its mission, understood its metrics, and clearly and concisely explained how and why they were different from the competition. Triptease said they were on track to deliver $1 billion in direct bookings by the end of 2015, and it's easy to see why.

TTW HOLDINGS is a tour operator in India that created a trip planning solution for all the products they sell on their site.

» My take: TTW did not do a very good job at presenting what was different, unique or interesting about the product they created. The slides were unreadable, and the presentation wasn't very well-rehearsed.

UMAPPED showed a white-label B2B2C itinerary management platform that helps travel companies and agencies implementing the solution stay engaged with their travelers throughout the journey. An agency can offer live itineraries to their travelers, who can then invite their friends and family to further collaborate on their existing itinerary.

» My take: If Unmapped can sell agencies and TMCs on the fact that this is useful to their travelers, they'll have gotten further than most trip planning tools. But I still think the core issue is that these tools will ultimately have an extremely low engagement rate, especially from regular travelers.

VENUENEXT presented a mobile food ordering product that enables hoteliers to offer on-demand food delivery anywhere inside the property. Leveraging iBeacons, the VenueNext white-label app can precisely determine the guest's location and offer an "Uber for Food" experience inside the property. The solution is also available as an SDK so a hotel brand's app could directly integrate the offering. Eventually, the app can also provide personalized content and merchandising offers on-property.
» My take: VenueNext has a lot of credibility, having launched at-seat food delivery at Levi's Stadium in California. However, hotels aren't stadiums – there are  a lot of them and they use varying systems for their food and beverage operations. And practically speaking, as a consumer, I've never felt so far removed from a hotel's food establishment that I wouldn't just walk to it to buy a sandwich. 

VOYAT INC.'S "guest retention platform" enables hotels to increase their direct bookings by combining social CRM tools (Facebook/Twitter login to the booking engine) with a personalization engine that enables targeted, relevant messages on the hotel's website. By getting interest and preference information on a guest from their social profiles, Voyat is able to segment and target messaging based on a traveler's interests. The solution is implemented by adding a single line of JavaScript on the hotel's website.

» My take: Voyat's 450 live hotels are adding 500,000 guest profiles a month, and the company has already assembled an impressive list of early adopter clients. But is personalized messaging - no matter how granularly targeted at a traveler's interests - enough to help hotels overcome the massive gravitational pull of OTAs?

WAYGO - a Battleground winner - presented its instant visual translation technology for smartphones and wearables. A traveler is able to point their smartphone at something written in a foreign language and receive an instant visual translation in their native language. The solution is offered as a mobile SDK designed to be integrated into other travel apps and monetized per user or per license.
» My take: This is great technology that can help solve a traveler pain point. But Waygo failed to mention that one of their biggest competitors was Word Lens, which was acquired by Google and is now available for free to anyone as Google Translate. True, Waygo seems to support some languages that Google doesn't, but I'm not confident that sets them apart enough.

ZIZOO - runner-up in the Startup category and a Battleground winner - is a boat charter marketplace that enables a traveler to book boat charters with real-time availability and instant confirmation. Zizoo claims this huge market is technologically very backward with most boat charter operations running on pen and paper or Excel spreadsheets. The startup gives charter operators a SaaS-based booking platform enabling them to manage their business in a more modern way. The startup makes money on 12% commissions and SaaS revenues from operators.
» My take: Both during the Battleground and on the main stage, presenter Anna Banicevic set herself apart as one of the sharpest presenters in the entire Travel Innovation Summit. She outlined her vision, knew her metrics, and presented some incredibly impressive early results ($3,300 basket size, $3 million in gross bookings, 40% month-to-month growth, etc.). Expect a big funding announcement from this startup soon.