Research Insights
Latin America's Travel Market: Sights Set on 2021 Recovery
Latin America's Travel Market: Sights Set on 2021 Recovery
Phocuswright expert analysts reveal new travel market research at the inaugural LatAm/Talk online event.  on 10 December. Get your complimentary ticket now – the event takes place Thursday, December 10!
Like all other travel markets around the globe, Latin America's is suffering great losses with the COVID-19 pandemic stacked on top of existing issues – political turmoil, social inequality, and more. The LatAm/Talk event provides education and tools for travel-focused companies that operate in or do business with Latin American countries as they work towards recovery in 2021.
After a significant decline in 2018, regional travel revenue in Latin America climbed 3% in 2019. COVID-19 will put an end to any further recovery in 2020, with each country suffering revenue declines ranging from 44-63%.

(Click image to view a larger version.)
Attendees get a world overview with Phocuswright's data and insights before taking a deeper dive into the LatAm region – and an exclusive preview of soon-to-be-published research.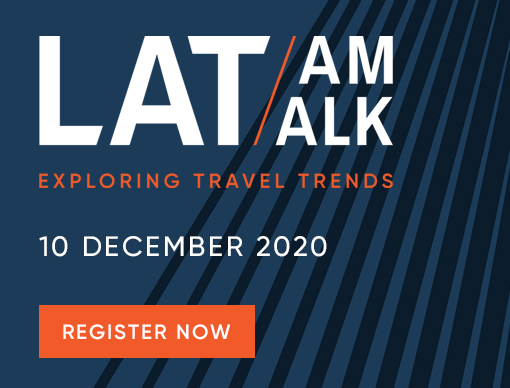 "Phocuswright developed LatAm/Talk to bring together the community of travel leaders focused on the Latin American market," said Phocuswright managing director, Pete Comeau. "This resilient group will share experiences, discuss and debate data and trends and gain consensus on what it will take to bring back travel and tourism in the region. We are thrilled to work with Pmweb and Elo, as well as our close friends at Mapie, to surface the unique challenges and opportunities the Latin America travel market faces as we navigate this global pandemic."
A lively roundtable discussion about the region's leisure, corporate and alternative accommodations space features C-level executives from Atlantica Hotels International, AMResorts and Housi/Vitacon. These key players explore and reveal strategies for the upcoming years.
Following a networking break facilitated by Pmweb, the innovation scene takes the spotlight as three startups – Ayenda Hotels, Smart Tours and Keteka – share their journeys. Tárik Potthoff of Pmweb leads the conversation with these innovators uncovering opportunities and obstacles encountered along the way.
In an executive interview (presented by ELO), Damian Scokin, CEO of Latin America's leading OTA, Despegar shares the company's challenges after a turbulent year as well as future strategies for its growing presence in the region.
Carolina Sass de Haro, Phocuswright's Latin America market specialist and managing partner of long-standing partner, Mapie, said: "We are excited about the LatAm/Talk program, because it focuses on our region and brings relevant players to the table to discuss our specificities and the way we approach travel. Phocuswright works throughly to have a comprehensive world view of the travel market and LatAm represents an important part of it."
A robust online event platform supports attendee connections, conversations and meetings and provides access to live and on-demand sessions. Tickets are free – register now.