Research Insights
Expedia Gains with Decolar Partnership in OTA Chess Match
Expedia Gains with Decolar Partnership in OTA Chess Match
Published:

March 2015

Analyst: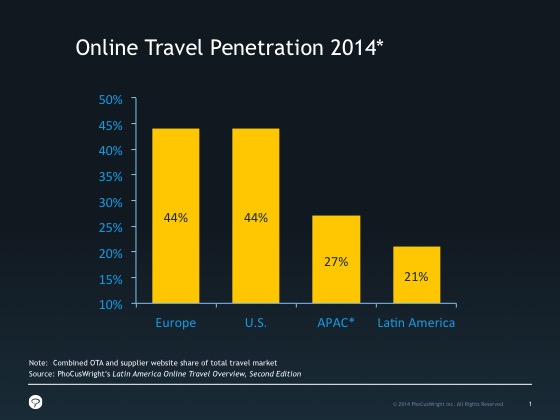 Expedia's new partnership with Decolar was a smart strategic move for the online travel giant, as the scramble for emerging travel markets among global OTAs intensifies. The investment was just U.S.$10 million shy of what Expedia paid to acquire Travelocity, but the payout will likely yield bigger profits for the group. The minority stake purchase (under 20% ownership) ultimately secured Expedia's existing relationship with Latin America's largest OTA in terms of gross bookings.
Decolar and Expedia have partnered since 2002 through Expedia's Affiliate Network (EAN). But with this most recent deal, Expedia effectively hit three birds with one stone: It blocked any potential for a Priceline (or other investor) acquisition of Decolar; it gained hard-to-reach long tail hotel inventory within Latin America; and Decolar will now exclusively funnel its growing outbound (outside of Latin America) business through Expedia.  
In a call following the announcement, CFO Mike Doyle confirmed that the new injection of capital will help solidify the brand's already strong market position in the region. Going forward, the company still aims to go public, but has not discounted the possibility of a deeper relationship with Expedia. 
Decolar (operating under the Despegar brand in Spanish-speaking markets) is estimated to generate around $4 billion in gross bookings, half of which come from its hotel product. In addition to flights, the company currently has 35,000 Latin American hotels under direct contract. About one third of Decolar's hotel business is now outbound travel outside of Latin America. Decolar also recently launched a car rental product that allows small rental companies to upload their inventory to the OTA. 
Expedia vs. Priceline
OTAs have plenty of room to grow in Latin America, but the market is complex and requires relatively large investments to capture its full potential. Hence, Expedia's decision to deepen its partnership with Despegar - rather than going at it alone - was the path of least resistance and a very good deal at U.S.$270 million. It also highlights a key difference in longer term growth strategies between Priceline and Expedia, both in Latin America and globally.
Over the years, Priceline has executed its supply-side strategy in Latin America efficiently and effectively, offering hotels unique products and ease in connectivity. However, it now faces some limitations with the Latin American consumer. The Booking.com hotel booking platform is popular among business travelers (particularly in Brazil), but none of the Priceline brands have the full-service OTA coverage targeting the leisure traveler that Despegar does. Profiting from a full-service OTA product (e.g., Priceline.com) in Latin America would require significant investment in marketing and advertising dollars. 
Latin America market potential
Latin America as a whole is anything but a uniform market; differences in language, consumer behavior, and business operating environments make it an expensive e-commerce market to engage. Red tape and local regulations around international business transactions make it difficult and costly to harvest sales revenue across the entire region. 
As travel has rapidly digitized, champions Expedia and Priceline are charging toward newer territory in developing regions. In more mature markets like the U.S. and Europe, competition is now fiercest on the consumer side, as the supply side (particularly for hotels) moves into the long tail. Emerging markets such as Latin America are still more open both on the consumer side, but also on the supply side. 
The region's six biggest markets (Argentina, Brazil, Chile, Colombia, Mexico and Peru) amount to over U.S.$85 billion in 2014 gross bookings, growing at around 6% annually. With online penetration at around 20% (much lower than in developed markets) this figure will balloon rapidly over the next five years.  Supplier website and OTA bookings will grow 15% annually, with big gains in hotel bookings through 2016.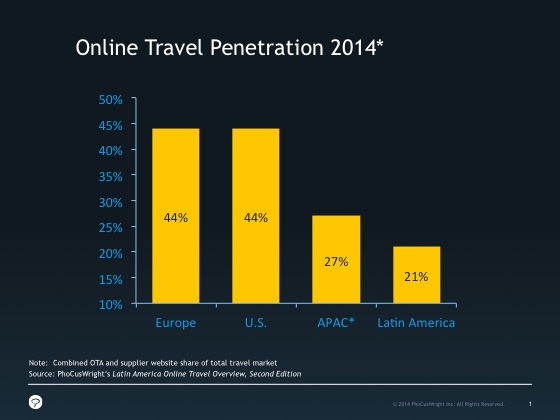 While the economic outlook for Brazil has dimmed, it has brightened for Mexico and Colombia, which is great for growth in the middle class and travel demand. Though economics are important, the real growth prospect remains converting traditional leisure and business travel bookings into OTA and supplier web portal bookings. 
Likewise, Latin America's hotel market is massive. Mexico hotels generated more room revenue than Germany, Spain or France. There are over 1.5 million traditional hotel rooms in Latin America's six biggest markets. Out of the 475,000 or so hotel rooms available in Brazil, over 70% belong to independent brands, 40% of which are hotels with less than 20 rooms. If counting nontraditional accommodations including guesthouses, apartments, 'love' hotels (a popular format in Brazil), among others, the total pie explodes. Booking.com currently connects over 15,400 properties in Brazil, about 35% of which are these nontraditional accommodations. 
For deeper analysis and data on Latin America's travel market, purchase Phocuswright's Latin America Online Travel Overview Second Edition.
Follow Luke at @lmbujarski