Jeff Strachan
Research Analyst, Middle East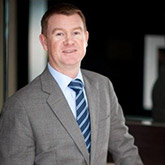 Abu Dhabi UAE
Owner of Siem Reap-based Maison557, Jeff has also been a retained consultant with hospitality specialists Insights Management Consultancy since July 2013. This follows a sixteen-year career with Marriott International, where he was most recently VP, sales and marketing, Middle East and Africa, responsible for a portfolio of 41 hotels across six brands with revenues exceeding $700 million annually. 

Graduating from West of Scotland College, Jeff worked in Spain, London and Manchester before joining Marriott in 1996 as sales executive at the Renaissance Manchester Hotel, where he quickly progressed to the role of director of sales and marketing. In 2000, Jeff relocated to the Middle East to take on the role of director of marketing at the JW Marriott Hotel Dubai.

In late 2003, he was appointed country director of marketing for Kuwait and charged with the creation of a sales and marketing organization, which included three hotels. In May 2005 he was appointed area director of sales and marketing Middle East and Africa with oversight of the then 23 hotels, in six countries, across five brands.

His passion is people ... their growth, development, success and happiness. He is an avid futurist and demographic obsessive.