Welcome to Phocal Point, an interactive data platform that gives you a 360-degree view of the metrics and intelligence that help you predict future trends and plan with confidence. Phocal Point is an included element of the Open Access Research Subscription.
Simplify complex data
Enhance decision making
Encourage data exploration
Increase efficiency and understanding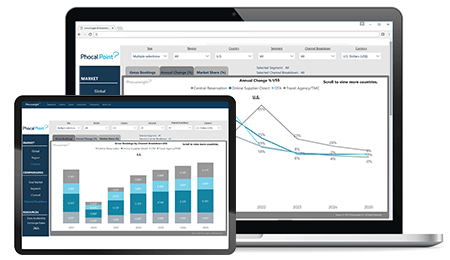 What is Phocal Point?
A redesigned experience makes it easier to access and interpret Phocuswright data.
It's all about the data. With an updated navigation interface, new dynamic filtering, additional segment and channel breakouts in select markets and rich detailed views of 35+ markets, Phocal Point allows you to create custom interactive charts and view travel data by segment, channel, device, region and country. Our proprietary travel industry market sizing data allows you to look to the future with projections through 2026, and review historical data as far back as 2009.
Data points for market sizing include:
Market size
Market share
Annual change
Segment share (air, car, hotel and rail)
Online channel share
OTA/supplier share
Desktop/mobile share
More than 35 regional and global markets
Conversion into multiple foreign currencies
Travel Startups Interactive Database:
Sort and filter:
Founded year
Total funding
HQ location
Business focus category
Vertical and horizontal category
Company status
Funding trends rounds, date and stage
Acquisitions and IPOs
Core travel verticals
Early stage active
Data-related companies
Trends relating to individual companies
Trends relating to individual investors
Get Interactive
Our flexible navigation and straightforward design allow you to create customized charts for internal and external presentations with new export capabilities.
Evaluate the market:
Phocal Point data allows you to get the answers you need to evaluate the current and projected markets and support your strategy.
Tackle these questions with Phocal Point:
What is the size of the global travel market?
What percentage of global travel is online?
Which regions have the highest year-over-year growths?
Which regions have the most online travel agency bookings?
What is the industry segment share per region?
Which countries are growing the fastest online?
Which countries have the largest gross bookings?
Phocal Point and Interactive Charts
Quick + easy data visualization
Compare markets by segment or channel
Data & projections available from 2009-2026
Interactive Charts by Country
Multiple years for total market, segment, channel
Travel Startups Interactive Database
Over 3,000 companies available
Sort and filter by founded year, total funding, HQ country, HQ region, company status, vertical category, horizontal category and business focus
Visualize aggregated data in interactive charts, including founding and funding trends over time, by region, by category, and by funding round date and type