Special Projects
Digital Nomads: Work From Anywhere
Digital Nomads: Work From Anywhere
A Phocuswright Special Project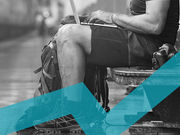 The rise and shift of the work-from-anywhere economy began long before the pandemic, when digital nomads were mostly made up of a niche group of millennials who utilized social to promote their digital nomad way of life.
As the pandemic put travel on hold, it created an opportunity. It forced a huge global shift in the fundamental way that many people worked, and this shift may have more permanent effects. Many that had to work from home may now be allowed to do so on a more permanent basis. Some already are – several big tech companies have announced that they will permanently allow employees to work from home, if they choose, even after offices re-open.
As this new frontier of digital nomads approaches, the industry needs to be prepared to know who they are, how to meet their needs and capture their attention. It's time to take a deep dive to understand the key trends driving this group.
From hotels to destinations, some in the travel industry have already perked up at this wider pool of opportunity, targeting this breed of traveler to set up shop with them. How will the lines of work and play be blurred, and is there long-term appetite for the citizen of the world lifestyle?
Sponsor this upcoming research project and receive insights including:
Digital nomad traveler profile
Trip profile and planning
Destination decisions
Product and technology needs and decisions
Nomad lifestyle
Employment profile
Segmentation (age, employment status, trip type, nomad experience)
Key questions this research will address:
What is the personal and employment profile of a digital nomad?
What are their motivations to adopt the lifestyle and is there long-term interest?
What considerations impact their destination and lodging choices?
What does work life on the road look like?
How, when and how thoroughly do they plan their trip?
What products, facilities, or technologies do they seek to support the lifestyle?
What is their willingness to spend?
What are the pitfalls and challenges?
---
Learn more about Phocuswright Special Projects:
Benefits »

Sponsorship levels & deliverables »

Add-on options »

Project timeline »
---
Design Your Own Sponsorship Package
Let us create the sponsorship package that's right for your company.
Contact our team today: +1 860 350-4084 x501 • Email