Special Projects
Member for the Moment or Loyal for Life? Loyalty Programs Revisited.
Member for the Moment or Loyal for Life? Loyalty Programs Revisited.
A Phocuswright Special Project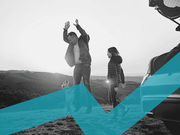 U.S. travel companies are spending millions of dollars developing and implementing loyalty programs. Driving bookings, retention and repeat business are among the main goals of travel loyalty programs. However, U.S. leisure travelers, on average, take just three leisure trips a year and don't always book flights or paid accommodation for every trip. Even with these low travel averages, travel companies have placed great emphasis on attracting consumers to their loyalty programs, hoping to strengthen relationships with existing customers and establish long-lasting bonds with new customers. But have they worked?
---
Watch the Video
Phocuswright research analyst Mark Blutstein presents key findings about U.S. consumer loyalty.
Watch now »
---
Is it possible to build true loyalty in travel?
The foundation of this project will be a consumer survey targeting U.S. travelers who are members of hotel, airline or OTA loyalty programs. By focusing on travelers who use and value the perks of loyalty programs, the study will reveal what motivates them to join, how they view their membership and benefits, and their broader relationship with and attitudes toward the brand. The project also explores how much loyalty will matter in a post COVID-19 travel environment, and if and how loyalty programs will impact post COVID-19 travel behavior. 
Loyalty is complex and consumer behavior differs from market to market. Beyond loyalty program trends, the study will examine elements that contribute to a sense of loyalty and how loyalty stacks up against other factors in decisions.
The study will also explore how attitudes may shift in a post COVID-19 era.
Sponsor this Upcoming Research to Learn
Who travel loyalty members are and how many are there in the U.S.
What loyalty means to travelers and what makes them more loyal to a brand
Why U.S. travelers join loyalty programs and why don't they don't
How consumers engage with and prioritize loyalty programs (e.g., shopping, booking, points redemption strategies)
If loyalty membership = brand loyalty
The influence of loyalty programs on travel decisions
How much loyalty will matter in a post COVID-19 travel environment
The value of credit card programs to travelers and how have they impact the importance of traditional travel loyalty programs 
How corporate travel policy shapes program choice and usage 
Special Project Core Areas of Focus
Customer retention through loyalty programs
What being part of a loyalty program really means to the customer
Contributing factors to the emotional and relationship driven aspect of loyalty
If and how loyalty programs may have an impact on post COVID-19 travel behavior
---
Learn more about Phocuswright Special Projects:
Benefits »

Sponsorship levels & deliverables »

Add-on options »

Project timeline »
---
Design Your Own Sponsorship Package
Let us create the sponsorship package that's right for your company.
Contact our team today: +1 860 350-4084 x501 • Email