Special Projects
Indian Consumer Travel Report
Indian Consumer Travel Report
A Special Project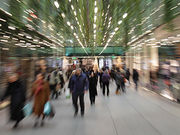 As India's economy grows and consumption increases, more people are spending their discretionary income on lifestyle services, including travel. Rising consumer spending, mostly from a middle class of over 300 million people, infrastructure development and incoming air and lodging supply will push the Indian travel market to grow in excess of 10% each year through 2020. With this rapid expansion of the Indian travel market, understanding and anticipating Indian traveler behavior is more important than ever. 
In order to tap into India's burgeoning travel market opportunity, it is essential to base your strategy on consumer preference and patterns. The upcoming Phocuswright's Special Project, Indian Consumer Travel Report, provides actionable insights and analysis into what drives these travelers from dreaming and destination selection through planning, purchasing, experiencing and sharing. The research uncovers general traveler behavior by trip type, frequency, length, spend, destination and psychographics.
Sponsor this Special Project and gain insight into one of the world's fastest-growing major travel market and Asia Pacific's third biggest travel market.
Sponsors will learn:
The wants when booking leisure and unmanaged business travel
Distinct traveler profiles and characteristics based upon transportation chosen - flight, train, rail, bus, car hire
Significance of brands, loyalty, advertising, deals in product selection and booking
Lodging type (including alternative accommodation), selection and price preferences
Traveler evolution – online, devices, shopping and purchase behavior 
Key channels throughout the trip life cycle
Mobile adoption and future expectations
Top domestic and international destinations
Preferred payment methods
Regional differences and diversity
Choose The Sponsorship That Supports Your Organization's Objectives
Deliverables can include (depending on sponsorship level):
Input into the project
Findings, analysis and recommendations delivered as an in-depth PowerPoint presentation
Segmentation analysis
Proprietary custom questions
Analyst presentation via private webinar
Branding and publicity acknowledgement and rights
PDF copy of the summary report that can be shared internally and with members
Group infographic
Design Your Own Sponsorship Package
Let us create the sponsorship package that's right for your company.
Contact our team today: +1 860 350-4084 x501 • Email