Special Projects
Travel Advertising in U.S. and Europe: Industry Sizing and Trends
Travel Advertising in U.S. and Europe: Industry Sizing and Trends
A Phocuswright Special Project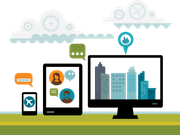 As new forces, trends and technologies shape the travel marketplace, so, too, do they shape the travel advertising ecosystem. As lines blur across search, metasearch and OTAs; as clicks become commissions; and as smartphones and wearables make technology ever-present to the consumer, where and how travel suppliers allocate their advertising budget is shifting. With this transformation, understanding how other suppliers and OTAs are successfully leveraging technologies and emerging products to attract travelers will be invaluable to your advertising strategy.

In order to stay competitive, it's important to understand emerging advertising spend trends across segments and channels in the U.S. and key European markets. The upcoming special project, Travel Advertising in the U.S. and Europe: Industry Sizing and Trends, provides insightful research and analysis into the key issues and trends transforming the marketplace from an advertiser, channel and ad product perspective. The research delves into management, metrics, targeting, technology and more.
Sponsor this project to gain insight into the supply side of travel's complex and evolving digital travel marketplace.
Sponsors will learn:
The size of the adspend market from 2015 (actual) through 2017 (projections), across the U.S., U.K., Germany and France
Adspend by advertiser type, channel and ad product
The top trends, challenges and priorities for 2016 and beyond
How advertising budgets are determined and who are the primary decision makers
How much spend is allocated to mobile and how mobile ad products are evolving
How publishers are improving their segmentation and targeting capabilities across the travel lifecycle
What new creative solutions are available that make advertisers stand out
Choose The Sponsorship That Supports Your Organization's Objectives
Deliverables can include (depending on sponsorship level):
Input into the project
Findings, analysis and recommendations delivered as an in-depth PowerPoint presentation
Analyst presentation via private webinar
Speaking engagement
6-8 page white paper
Branding and publicity acknowledgement and rights
PDF copy of the summary report that can be shared internally and with members
Design Your Own Sponsorship Package
Let us create the sponsorship package that's right for your company.
Contact our team today: +1 860 350-4084 x501 • Email