Special Projects
U.S. Corporate Travel Landscape
U.S. Corporate Travel Landscape
A Phocuswright Special Project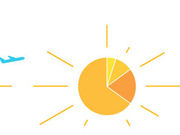 The year 2015 brings corporate travel to a crossroads. New consumer technology, moderately managed travel policy, the impact of mobile, and the open booking debate impact all players along the business travel value chain. It's becoming increasingly challenging for the supplier to engage and the intermediary to add value as the business traveler embraces new technologies and seeks to minimize friction throughout the travel lifecycle. Understanding the disruptors will be key.
With the corporate travel landscape in such an evolving state, it's important to base your sales and marketing strategies on channel performance, not speculation. The upcoming Phocuswright Special Project, U.S. Corporate Travel Landscape, provides insightful research and analysis into channel distribution and online booking trends of the U.S. business traveler. The research delves into growth opportunities by segment, market sizing and other key trends impacting corporate buyers and business travelers.  
Sponsor this Special Project and gain insight into the evolving corporate travel marketplace.
Sponsors will learn:
The size of the corporate travel market in the U.S., including forecasts for total and online managed travel markets
Market share of online booking tools
Segmentation analysis across channels (direct, intermediaries) and products (air, hotel, car, rail)
Mobile booking distribution and forecasts
Key trends driving the corporate travel market
Corporate buyer strategies and use of technology
Business traveler behavior across the travel lifecycle
Choose The Sponsorship That Supports Your Organization's Objectives
Select the sponsorship that best suits your organization's goals. Deliverables can include (depending on sponsorship level):
Input into the project
Findings, analysis and recommendations delivered as an in-depth PowerPoint presentation
Proprietary White Paper
Analyst presentation via private Webinar
Branding and publicity acknowledgement and rights
PDF copy of the summary report that can be shared internally and with members
Design Your Own Sponsorship Package
Let us create the sponsorship package that's right for your company.
Contact our team today: +1 860 350-4084 x501 • Email