Special Projects
Assessing the Online Travel Opportunity: Middle East Second Edition
Assessing the Online Travel Opportunity: Middle East Second Edition
A Phocuswright Special Project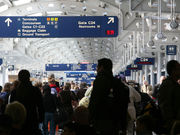 Published: August 2015
Phocuswright's upcoming Special Project, Assessing the Online Travel Opportunity: The Middle East, Second Edition, will revisit the region's online travel market and provide an in-depth travel outlook of the 9 countries comprising the Middle East. 
The research will provide market sizing, analysis and forecasts through 2016, including economic trends and key demographic data, as well as a review of key online players, strategies and the impact of technology on travel distribution in the Middle East. This Special Projectwill also take a deep dive into hybrid travel agencies selling across both online and offline channels – including a micro analysis of hotel brand affiliation and its impact on online penetration.
Sponsor this Special Project to effectively address the opportunities and challenges in the Middle Eastern online travel market. Understand where expansion potential exists and how to hone your brand and product for this promising emerging market.
Sponsors Will Learn
The size of the total and online Middle East leisure/unmanaged business travel markets, as well as detailed analysis of UAE, Saudi Arabia and Qatar by travel product segment and booking channel
Key trends influencing the various markets
The role technology plays in travel behavior and development throughout the region
Areas of market growth and trends in the near to medium term
Insight for planning of sales and marketing strategies and expenditures based on channel performance, not speculation
Competitive analysis, market intelligence and statistical data vital to strategic planning and decision making
Growth opportunities in upcoming regional destinations
Short to medium term development plans of key online players
Choose The Sponsorship That Supports Your Organization's Objectives
Select the sponsorship that best suits your organization's goals. Deliverables can include (depending on sponsorship level):
Central role in shaping the scope of research and survey instruments
Findings, analysis and recommendations detailed an in-depth PowerPoint presentation
Analyst presentation via private or group webinar
Input into the leisure traveler survey and focus groups in an interactive process
Custom and proprietary survey questions
Tabulated survey results delivered in SPSS and Excel format
Custom data tables for additional analysis
Branding and publicity acknowledgement and rights
PDF copy of a summary report that can be shared internally
Design Your Own Sponsorship Package
Let us create the sponsorship package that's right for your company.
Contact our team today: +1 860 350-4084 x501 • Email