Special Projects
Skier & Ski Traveler Study
Skier & Ski Traveler Study
A Phocuswright Special Project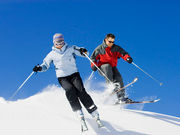 This Special Project provides a complete picture of skiers and ski travelers, yielding insight into their demographics, attitudes, behaviors and preferences. A comprehensive survey of U.S. skiers and ski travelers (i.e., skiers who have traveled to ski in the past season) will analyze the factors influencing destination and product selection, identify shopping and buying patterns, and uncover social media and mobile usage trends.

Sponsor This Special Project To Effectively Target And Sell To The Largely Untapped Ski And Ski Traveler Segment.
Research topics include:
Skier and Ski Traveler Profiles
What are the demographics of skiers and ski travelers?
What are their attitudes towards ski, travel and technology?
How often do they ski, how often do they travel, and how much do they spend?
Travel Trends
What drives the ski vacation?
What inhibits ski travel?
Do skiers fly or drive to their destination?
When do skiers travel to ski?
Destination and Product
What drives destination selection?
What types of products and services are skiers and ski travelers purchasing?
What factors influence product selection?
Shopping and Buying
What shopping and purchase methods are used?
What are the dynamics of advance purchase, and how does this vary for travel versus ski components?
Social and Mobile
How do skiers use social media and mobile?
Choose from a range of sponsorship options to get the answers and deliverables that match your organization's needs.
Multiple sponsorship levels are available. Deliverables can include (depending on sponsorship level):
Findings, analysis and recommendations delivered electronically as an in-depth PowerPoint presentation
Analyst presentation via private or group webinar
Branding and publicity acknowledgement and rights
PDF copy of a summary report that can be shared internally
Client kickoff call to provide key points of interest
Input into the consumer survey in an interactive process
Tabulated survey results delivered in Excel format
Custom and proprietary survey questions
Custom data tables for additional analysis
Design Your Own Sponsorship Package
Let us create the sponsorship package that's right for your company.
Contact our team today: +1 860 350-4084 x501 • Email