Special Projects
Assessing the Online Travel Opportunity: The Middle East
Assessing the Online Travel Opportunity: The Middle East
A Phocuswright Special Project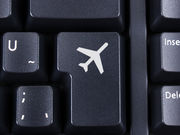 Look past the glitz and get to the grit. The Middle East is more than Dubai, and this Special Project offers sponsors a deep understanding of travel distribution in the region. Economic development, a tech-savvy consumer base, expanding business opportunities and a culture of hospitality make the United Arab Emirates and other Middle East countries ripe for travel market growth.
Identify Emerging Opportunities in the Middle East Travel Marketplace
Phocuswright is seeking partners to invest in and help shape research for an upcoming Special Project, Assessing the Online Travel Opportunity: Middle East. This project sizes the Middle East travel market and studies market dynamics to uncover trends and opportunities throughout the region. The project includes in-depth analysis of Egypt, Saudi Arabia, United Arab Emirates (UAE) and Qatar.
The research delivers market size and forecasts for the total and online leisure/unmanaged business travel markets, including projections through 2013. Detailed analysis tracks growth developments and provides segmentation across channels (direct, intermediaries) and products (air, hotel, car, package/tour). The project delves deeply into leading travel trends – key online players, strategies, and the impact of technology on travel distribution in the Middle East.
Phocuswright will complete over 30 in-depth executive interviews with travel suppliers, intermediaries, technology providers and media sites to accurately size the market and discover/validate key trends.
Optimize Your Middle East Strategy to Achieve Maximum Returns in 2011 and Beyond
Capture a greater share of the online travel opportunity in Egypt, Saudi Arabia, UAE and Qatar, as well as other emerging Middle Eastern markets
Anticipate growth trends within individual markets and segments
Understand the challenges in the Middle East's unique markets and how to penetrate them
Identify potential partners and track competitors
Prioritize your approach, hone your strategy, and formulate your market expansion plan
Assess key online and technology trends changing the marketplace
Learn successful marketing strategies that influence travel purchasing
Establish your company as a thought leader in the Middle East travel market
Become a project sponsor and capture a greater share of the Middle East travel opportunity. LIMITED SPOTS ARE AVAILABLE!
Project Sponsorship US$10,000
Review of your key objectives with project analysts
Findings, analysis and recommendations delivered as an in-depth PowerPoint presentation deck
Analyst presentation via private two-hour Webinar, customized based on key points of interest and success factors
PDF copy of the summary report – this report will be produced as an additional output from the study
Co-branded one-hour Webinar featuring research study highlights for client's internal staff and/or external partners and clients
Sponsorship acknowledgement, branding and publicity rights 
Design Your Own Sponsorship Package
Let us create the sponsorship package that's right for your company.
Contact our team today: +1 860 350-4084 x501 • Email