Special Projects
Mobile Hits the Mainstream
Mobile Hits the Mainstream
A Phocuswright Special Project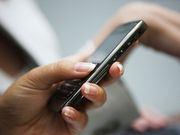 Is your mobile and tablet strategy stuck in 2010 planning?
An explosion of mobile devices is putting a wealth of information and services at consumers' fingertips – anytime, anywhere. Yet despite the recent influx of mobile travel applications, true innovation is just getting started. Most mobile travel offerings fall short, failing to exploit device capabilities or anticipate traveler expectations. And just as last year's mobile strategies begin to come to fruition, soaring tablet adoption mandates an entirely new approach.
Sponsor This Proprietary Research and Pull Away From the Pack With Inventive Strategies for Tablet and Smartphone Success
PhoCusWright is seeking partners to invest in and help shape research for an upcoming Special Project, Mobile Hits the Mainstream: Trends and Opportunities as the Mobile Market Matures. This comprehensive research studies the size and dynamics of the mobile travel marketplace, providing deep insight into the mobile opportunity.
The unique methodology includes quantitative consumer surveys and live focus group sessions with business and leisure travelers, providing unprecedented insight into mobile travel requirements. In-depth interviews with key executives will reveal technology trends and distribution strategies for suppliers, intermediaries, corporate travel organizations and GDSs/ technology providers in three primary regions: North America, Asia Pacific and Western Europe.
Anticipate the Next Wave of Mobile Travel Innovation
Understand the trends shaping mobile technology and traveler expectations to prioritize your mobile investment:
Mobile Innovation What represents true mobile innovation, and who is driving it?
Mobile Development How will changes in devices and networks impact development?
Traveler Behavior What types of services do U.S. corporate and leisure travelers want on their mobile device, and how do requirements vary by demographic, psychographic and geography?
Market Sizing and M-Commerce What are the current and projected mobile travel booking volumes in the U.S.?
Mobile Merchandising What are the major trends in mobile merchandising and advertising?
Strategy How should I target my mobile strategy to best exploit the mobile opportunity?
Become a sponsor of this proprietary research and optimize your mobile strategy. Choose the sponsorship level that is right for you. LIMITED SPOTS ARE AVAILABLE.
Gold Sponsorship (US$15,000)
Findings, analysis and recommendations delivered as an in-depth PowerPoint presentation deck.
Analyst presentation via a private two-hour webinar, customized based on your key points of interest and success factors
Input into the focus groups discussion guide in an interactive process – focus group results are exclusive to Gold and Platinum sponsors
Tabulated survey results
Distribution rights of co-branded "Research Highlights" publication
Branding and publicity acknowledgement and rights
PDF copy of the summary report that you may share with clients and partners – this report will be produced as an additional output from the study
Platinum Sponsorship ($25,000)
Gold benefits, plus:
Two custom and proprietary questions in the consumer and business traveler surveys (the results will only be released to the sponsor) – limited to the first three participating sponsors
A custom set of data tables that will correlate the responses to your questions with the other consumer survey questions for additional analysis
Design Your Own Sponsorship Package
Let us create the sponsorship package that's right for your company.
Contact our team today: +1 860 350-4084 x501 • Email