Special Projects
Assessing the Online Travel Opportunity: Russia and Eastern Europe
Assessing the Online Travel Opportunity: Russia and Eastern Europe
A Phocuswright Special Project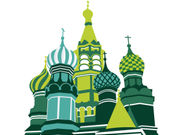 Travel companies searching for the next wave of growth are looking east. Russia and Eastern European countries such as Poland are experiencing rebounding economies and healthy travel gains. These less mature, less-penetrated travel markets are ripe for online travel, social media and mobile. However, there is little information available to help travel companies navigate these unique markets.
Hone Your Strategy in the Russian and Eastern European Travel Marketplaces
Phocuswright is seeking partners to invest in and help shape research for an upcoming Special Project, Emerging Travel Markets in Eastern Europe: Russia, Ukraine and Poland. This project sizes the Russian and key Eastern European travel markets and studies market dynamics to uncover trends and opportunities throughout the region. The project includes in-depth analysis of Russia, Ukraine and Poland with an overview of Bulgaria, the Baltics, Greece, Hungary, Romania and Czech Republic.
The research delivers market size and forecasts for the total and online leisure/unmanaged business travel markets, including projections through 2013. Detailed analysis tracks growth developments and provides segmentation across channels (direct, intermediaries) and products (air, hotel, car, package/tour and rail). The project delves deeply into leading travel trends – key players (online travel agencies, airlines, hotels, tour operators and railways), strategies, and the impact of technology on travel distribution in Russia and Eastern Europe.
Get the information you need to position your brand and products for maximum returns in 2011 and beyond.
Phocuswright will complete over 50 in-depth executive interviews with travel suppliers, intermediaries and technology providers to accurately size the market and discover/validate key trends. This study answers the questions that are essential to success in these emerging travel markets, including:
What is the size of the online leisure and unmanaged business travel market in Russia, Ukraine, Poland and other key European countries?
What are the greatest risks and challenges in each market?
Who are the key players and potential new market entrants?
What are the current and future technologies driving change?
How do the Russian and Eastern European travel markets compare to more mature regions (e.g., U.S., Western Europe) and emerging markets in other regions (e.g., Asia Pacific, Latin America)?
What role does mobile play in each market and what are the mobile travel opportunities?
Limited Spots are Available – Reserve Your Place Early
Sponsorship Deliverables (US$10,000)
Review of your key objectives with project analysts
Findings, analysis and recommendations delivered as an in-depth PowerPoint presentation deck
Analyst presentation via private two-hour webinar, customized based on key points of interest and success factors
Co-branded one-hour webinar featuring research study highlights for client's internal staff and/or external partners and clients
Sponsorship acknowledgement, branding and publicity rights
Design Your Own Sponsorship Package
Let us create the sponsorship package that's right for your company.
Contact our team today: +1 860 350-4084 x501 • Email