Report
Estimating Hospitality Industry Recovery Using Big Data and AI
Estimating Hospitality Industry Recovery Using Big Data and AI
Published:

August 2020

Analyst:
Introduction
The COVID-19 pandemic has impacted most industries across the globe, and the hospitality sector is among the worst affected. Governments around the world placed severe restrictions on travel via travel bans, shelter-in-place orders, and social distancing requirements. Vast adjustments in both supply and demand across several travel verticals followed. As the pandemic advanced, travelers canceled their hotel bookings at an unprecedented scale and speed, resulting in all-time low occupancy levels and dramatic declines in year-over-year Revenue Per Available Room (RevPAR).
The hospitality industry will experience a subtle but significant transformation through this pandemic and in the post-pandemic era. The old models of forecasting based on historical data are not as accurate and effective in the current situation. Yet the need for insight into how markets might recover over the upcoming months has never been greater. The key question is how effectively can market-level demand be forecasted to manage hotel business performance while preparing for new post-crisis consumer behavior?
To adjust to this new reality, a different framework is required to forecast market demand on a daily basis leading up to check-in date. In the COVID-19 era, where consumer travel trends are less relevant for market movements, the travel and hotel industry needs to tap into multiple data sources to infer demand in a modular fashion. LodgIQ has created a novel forecasting framework that will forecast key hotel metrics - Occupancy, Average Daily Rate (ADR) and RevPAR - in real time for a 12-month horizon. This is built on multi-textured data sets ranging from market-level reservation data (Amadeus' business intelligence), to rate shopping data and events data from hotel revenue managers. Amadeus' business intelligence data and Sojern's hotel search traffic data enrich this framework significantly and augment its predictive power. The forecasting framework incorporates LodgIQ's revenue management expertise to tune the algorithm, improving accuracy and interpretability.
Approach
A recent sentiment study by Phocuswright identified that uncertainty and concerns over the pandemic are key factors in limiting short-term demand. It could take months after travel restrictions are lifted for travel behavior to revert to supply-demand economics instead of COVID-19-related factors. As a consequence, traditional forecasting methods, trained in historical hotel and flight booking patterns, are less effective.
To analyze the new consumer behavior and adapt to the COVID-19 travel era, a new forecasting framework is necessary. This framework must take into account unforeseen travel patterns to predict demand in both the short and long term. Unlike the last two downturns, where data was limited and difficult to collect, there is a vast supply of data accessible to model the path forward. The framework needs to incorporate COVID-19 conditions and their impact on demand in the world's major travel markets, along with other indicators such as web traffic data and reservation data. Using these variables to forecast trends will be invaluable, as hotels begin to plan for the demand rebound.
Design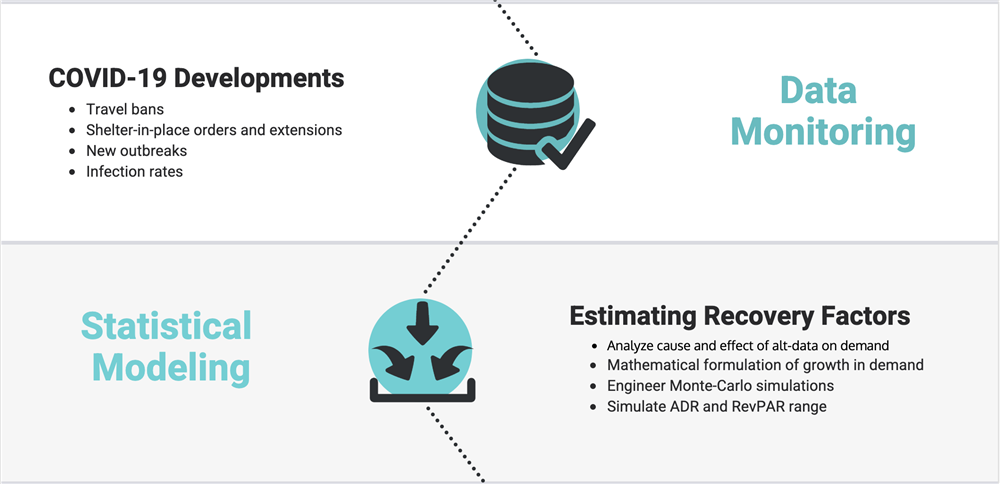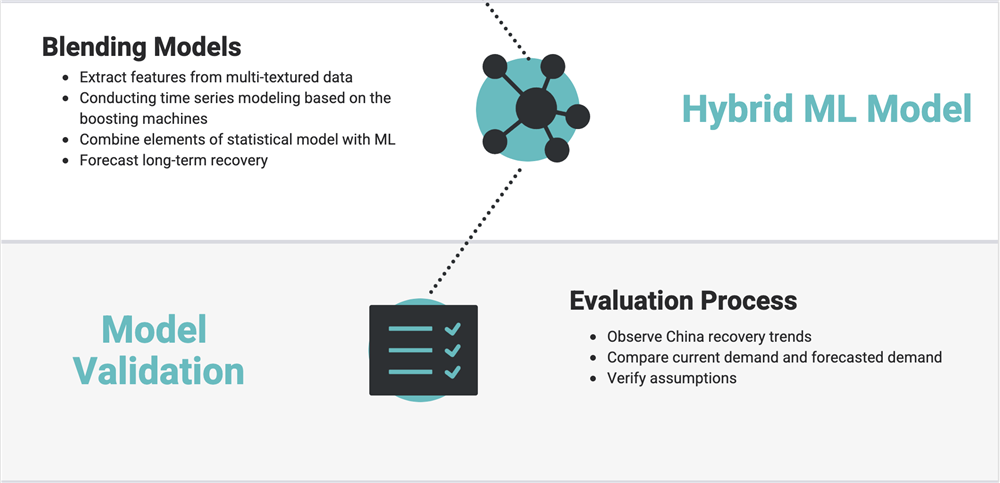 Analysis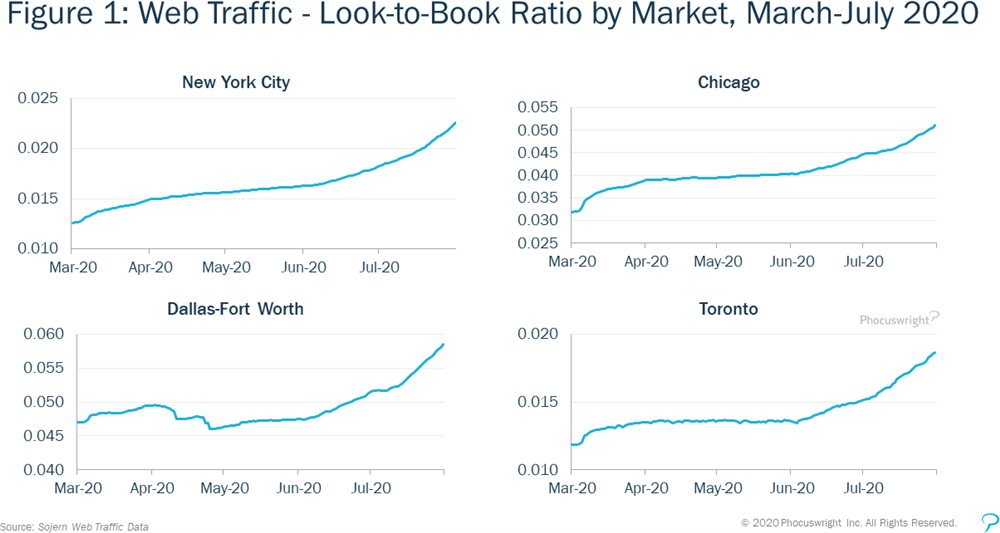 Aggregated web traffic data for the third quarter (see Figure 1) for four different markets: New York City, Chicago, Dallas and Toronto shows a sharp increase in look-to-book ratio in recent weeks compared to the onset of the pandemic. This can be attributed to the economy reopening and travel restrictions being eased.
Though travel demand for the summer has collapsed, demand for the third and fourth quarters of 2020 has held up better. The increase in digital traffic and booking activity across segments goes hand-in-hand with hotels reopening. Phocuswright research also indicates that tourists are opting to travel closer to home, and that the leisure segment will be the first to show a demand bounce-back. Business travel and the group segment continues to shy away from bookings.
The framework developed by LodgIQ utilizes available data sources that include, but are not limited to: market data from Amadeus business intelligence; web traffic data from Sojern; and hybrid modeling techniques using machine learning to forecast the aggregated monthly demand in real time for the upcoming 12-month horizon.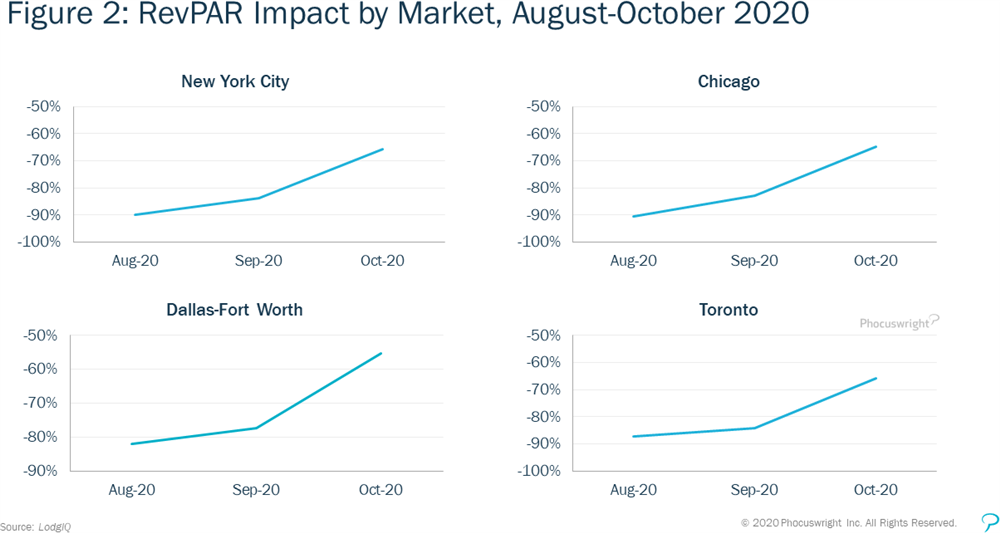 The RevPAR % change forecast for four major North American markets for the third quarter shows a marked month-over-month improvement towards the end of 3Q20 (see Figure 2) but RevPAR still lags significantly compared to 2019.
Conclusion
Travel will come back but the path to recovery will be convoluted. The rebound will vary across market segments, and the trajectory and momentum of the business and leisure segments' recovery will be different. Moreover, domestic and international travel will pick up at different rates. Accordingly, industry revenue leaders should build their rebound strategy with an eye toward consumer behavior. The approach here is intended to model the path to recovery better than traditional forecasting methods or conventional machine learning algorithms.
Governments, health care professionals, and researchers across the globe are working together to find solutions to the COVID‑19 pandemic. The crisis has raised existential questions and requires the travel industry to come together to bring forth solutions. Through close cooperation and partnership with various data providers, we hope to harness the power of data and technology to help hotels around the world along their path of recovery.
Partners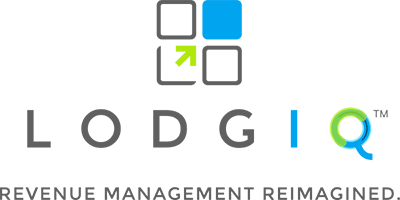 LodgIQ uses state of the art BigData Analytics and AI / Machine Learning algorithms to forecast demand and price hotel rooms. LodgIQ is led by a team of experienced hospitality technologists, data scientists and engineers. Seed funded by Highgate Ventures, LodgIQ is re-imagining revenue management with predictive and prescriptive analytics methods. Our flagship product - LodgIQ RM is used by hotels across the globe, day-in and day-out to understand demand and optimize revenue.

Sojern provides digital marketing solutions for the travel industry. Powered by artificial intelligence and traveler intent data, Sojern activates multi-channel marketing solutions to drive direct demand. More than 10,000 hotels, attractions, tourism boards and travel marketers rely on Sojern to engage and convert travelers around the world.