Special Projects
Canada Travel Market
Canada Travel Market
A Phocuswright Special Project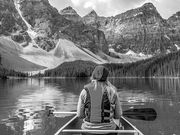 The Canadian travel market was fairly resilient despite fluctuating economic conditions prior to the pandemic. Growth in the travel market consistently outpaced growth in Gross Domestic Product (GDP). Yet, online penetration has remained low compared to other developed travel markets.
In 2017, Phocuswright took a deep dive into the size of the market, the distribution landscape and consumer behavior in the Canadian market. We followed this up in 2021 with a comprehensive market sizing project aimed at understanding how travel was faring post-pandemic and projecting the shape of recovery.
As we enter 2023 having left the pandemic behind and facing new economic headwinds, Phocuswright is revisiting the Canadian travel landscape to explore and project the size of the market, examine distribution dynamics and delve into consumer behavior as traditional preferences and habits evolve.
Key Questions to be Addressed
Market Sizing and Distribution Landscape
Total market size with a focus on online leisure travel (includes unmanaged business travel)
Market size projections through 2026
The distribution landscape including size and projections for key segments and channels
Key trends impacting the market
 The Leisure Traveler
Profile of the Canadian leisure traveler
Online planning, shopping and purchasing behavior
Influences on planning and shopping
Destination decision metrics
Role of social media during the trip lifecycle
Attitudes towards sustainability
Looking ahead: travel plans in next 12 months
Learn more about Phocuswright Special Projects:
Benefits »

Sponsorship levels & deliverables »

Add-on options »

Project timeline »
Design Your Own Sponsorship Package
Let us create the sponsorship package that's right for your company.
Contact our team today: +1 860 350-4084 x501 • Email