Special Projects
European Short-Term Rentals
European Short-Term Rentals
A Phocuswright Special Project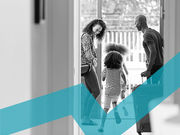 Growing at breakneck speed, short-term rentals have impacted European cities and tourism in unexpected ways. But this maturing sector still retains its complexity and fragmentation.
Now, as consumers and the industry alike await a post-COVID recovery, what is the state of the short-term rentals market? As cities and local authorities take steps to exert more control over available housing inventory and impose stricter regulations and oversight, the short-term rentals landscape will have to adapt.
Will it continue to prosper? How will rentals change the lodging space? What will the growth trajectory look like as regulations increase? What trends are emerging in this space that will have a lasting impact on travel?
Phocuswright is set to take a deep dive into the short-term rentals market in five key European countries: France, Germany, Italy, Spain and the U.K. This upcoming research will size the market, analyze consumer and industry trends, and explore the rise of digitalization in this segment.
Sponsor this upcoming research project and receive insights including:
The structure of the short-term rentals landscape in five European markets: France, Germany, Italy, Spain and the U.K.
Sizing of these five markets from 2019-2025 in terms of supply and demand
Key trends in traveler demographics, behavior, attitudes, intentions and satisfaction across the consumer search, shop and purchase experience
Key homeowner/host and property manager trends
Developments in online booking, distribution and marketing
The business models and fee structures affecting travelers, homeowner/hosts, property managers and retailers
The evolving impact of short-term rentals on the hotel sector
Key questions this research will address:
How will the short-term rental market in key European countries develop over the next few years?
How will the regulatory environment impact growth?
What are the supply side trends that will impact this segment?
How will distribution evolve?
Will the "professionalization" of the industry continue?
Will travelers be more inclined to stay in a private rental as compared to hotels post-pandemic?
Is there a shift in demand or will short-term rentals create new demand?
Which technologies will be important as the market matures?
What impact will the short-term rentals market have on the future of lodging?
---
Learn more about Phocuswright Special Projects:
Benefits »

Sponsorship levels & deliverables »

Add-on options »

Project timeline »
---
Design Your Own Sponsorship Package
Let us create the sponsorship package that's right for your company.
Contact our team today: +1 860 350-4084 x501 • Email