Special Projects
The U.S. Business Traveler: How Loyalty Technology and Preferred Channels Impact Today's Business Traveler
The U.S. Business Traveler: How Loyalty Technology and Preferred Channels Impact Today's Business Traveler
A Phocuswright Special Project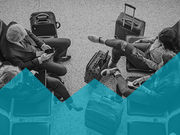 Technology has become an integral part of the business travel experience.
From basics like online booking and automated expense, to the growing use of mobile apps and social media platforms, business travelers are turning to technology to simplify and elevate their experience across the entire trip life cycle.
A new Special Project research study from Phocuswright will examine business traveler behaviors, preferences, perceptions and attitudes to develop key trend lines.
Sponsor this upcoming research to examine core topics of the business traveler experience:
Planning process
Booking behavior
Bleisure
Factors influencing compliance
The frequent business traveler
The role of mobile
The research will also define how these sementation factors affect behaviors and preferences:
Generational (Millennials vs. Gen Xers vs. Boomers)
Degree of policy (highly managed, lightly managed, unmanaged)
Travel frequency (infrequent vs. road warrior)
Sponsors will learn vital information such as:
What drives travelers to book out-of-policy?
Are road warriors really more likely to do so?
How does technology impact business travelers' behavior?
Do millennials really behave differently when it comes to business travel?
How does behavior and motivation vary by product (hotel, private accommodation, flights and transportation)?
What role, if any, does loyalty play in the decision-making process?
Why sponsor?
The research findings will arm you with insights to promote your position as an authority in the corporate travel marketplace.
Discover business traveler pain points, and gain insights into how to address them
Hone products to match wants and needs across the business travel life cycle
Understand how the mobile platform is changing the traveler experience, and what opportunities it enables
Choose the sponsorship that supports your organization's objectives.
Deliverables* can include (depending on sponsorship level):
Industry survey custom questions
Findings, analysis and recommendations delivered as an in-depth slide presentation
Co-branded infographics
Analyst presentation via a group/private/public webinar
Branding and publicity acknowledgement and rights
The summary report that can be shared internally and with members
PhocusWire marketing
* Some deliverables are limited and available on a first-come, first-served basis.
Design Your Own Sponsorship Package
Let us create the sponsorship package that's right for your company.
Contact our team today: +1 860 350-4084 x501 • Email