Special Projects
The New Global Traveler: Discovering the Impact of Technology
The New Global Traveler: Discovering the Impact of Technology
A Phocuswright Special Project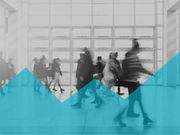 Technology advancements continue to change travelers' attitudes and behaviors. Reliance on smartphones impacts consumers daily. New techs are gaining momentum.
Join Phocuswright in its groundbreaking study that quantifies, qualifies and compares the use of technology by travelers from 7 countries (China, France, Germany, Indonesia, Japan, the U.K. and U.S.) during the entire trip life cycle.
Sponsor this upcoming research to learn:
What are the profound differences in digital travel planning behavior in each of the seven source markets
What are the differences by traveler demographics
How technology's evolution is shaping the consumer leisure travel booking process in mature travel markets, and the current status in fast-growing travel markets
How multi-device usage affects travel research, shopping and planning behavior
What attitudes and behaviors travelers have about technology throughout the trip lifecycle
Technology usage and activity by travel product (air, hotel, car, cruise, activity) with an in-depth focus on new tech services for air and hotel (i.e., mobile check-in at airports, on-property hotel mobile key and in room offerings, etc.)
Mobile usage, especially regarding travel-related mobile activities
How and how often do travelers use social platforms before, during and after their trips
What is the adoption and outlook for new tech like voice and chat in travel
The research findings will help guide:
A clear understanding of fact-based differences of digital travel planning and behavior among different source markets and traveler demographics
How to better digitally serve travelers – what they value in user experience and what is their desire for personalization
How to fine-tune multi-device strategies in different markets and in different phases of the trip life cycle.
How to optimize digital strategies – short term and long term – regarding social, voice and chat
Choose the sponsorship that supports your organization's objectives.
Deliverables* can include (depending on sponsorship level):
Industry survey custom questions
Findings, analysis and recommendations delivered as an in-depth slide presentation
Proprietary white paper
Data tabulations in Excel format
Analyst presentation via a group/private/public webinar
Branding and publicity acknowledgement and rights
PDF copy of the summary report that can be shared internally and with members
PhocusWire marketing
* Some deliverables are limited and available on a first-come, first-served basis.
Design Your Own Sponsorship Package
Let us create the sponsorship package that's right for your company.
Contact our team today: +1 860 350-4084 x501 • Email