Special Projects
Middle East Online Travel Overview Fourth Edition
Middle East Online Travel Overview Fourth Edition
A Phocuswright Special Project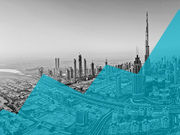 Alongside its cultural traditions and historical significance, the Middle East is moving swiftly into the Internet age.
Driven by high Internet and smartphone penetration, improving technology infrastructure and a young population with an appetite for travel (nearly 40% younger than age 20, with another 27% in the millennial 20-34 age range), the Middle East travel market is well positioned for strong growth. Strong traditional airline brands, and a huge hotel market that is expanding as the region prepares to host several global events in the next four years, Middle East travel market projections show an average 8% annually through 2021, when gross bookings are projected to reach $107.8 billion. Phocuswright analysts are taking a fourth deep dive into the Middle East with actual and forecasted data from 2018-2023.
Sponsor this upcoming research to get an in-depth view of the travel market in 9 Middle Eastern countries* and explore economic trends, key demographic data, enabling technologies and innovative companies.
This upcoming research will:
Provide overall sizing of the total and online Middle East leisure/unmanaged business travel markets, as well as detailed analysis of the focus markets; UAE, Saudi Arabia & Egypt during the study period of 2018–2023 (2017 and 2018 actuals & forecasts for 2019-2023)
Deliver sizing and comparison by travel product segment, booking channel and country
Highlight key trends influencing the various markets
Track general and travel-related technology adoption and examine the interplay between technology, travel behavior and development
Forecast market growth and trends in the near to medium term
Offer insight for planning of sales and marketing strategies and expenditures based on channel performance, not speculation
Supply competitive analysis, market intelligence and statistical data that is vital for strategic planning and decision making
Assess growth opportunities in upcoming regional destinations
Assess trends in outbound travel for upcoming new destinations
Highlight short to medium term development plans of key online players
Become a sponsor to:
Capture greater share of the online travel opportunity in Egypt, Saudi Arabia and UAE as well as other key Middle Eastern markets
Study Egypt and the latest market trends specific to this emerging online market
Learn how to penetrate the markets and explore the challenges
Understand the sub-segments and potential size within the market
Prioritize your approach, hone your strategy and formulate your market expansion plan
Assess key online and technology trends changing the marketplace
Learn successful marketing strategies that influence travel
* This research will present granular details for Egypt, Saudi Arabia (KSA) and the United Arab Emirates (UAE); Bahrain, Jordan, Kuwait, Lebanon, Oman and Qatar will be grouped together.
Choose the sponsorship that supports your organization's objectives.
Deliverables* can include (depending on sponsorship level):
Findings, analysis and recommendations delivered as an in-depth slide presentation
Proprietary white paper
Analyst presentation via a group/private/public webinar
Branding and publicity acknowledgement and rights
PDF copy of the summary report that can be shared internally and with members
PhocusWire marketing
* Some deliverables are limited and available on a first-come, first-served basis.
Design Your Own Sponsorship Package
Let us create the sponsorship package that's right for your company.
Contact our team today: +1 860 350-4084 x501 • Email