Special Projects
Tours and Activities Come of Age
Tours and Activities Come of Age
A Phocus Collection Project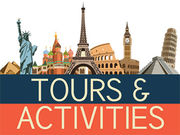 Last year, the global travel market reached US$1.3 trillion – most of that coming from the air and lodging sectors. While the industry focuses on that 81% of the pie, travelers themselves tend to be focused on what they do while they're there: seeing, experiencing, touring and doing. With the rise of mobile changing the way travelers discover, book and experience travel activities, the in-destination events, attractions and activities marketplace is undergoing extraordinary change. Understanding the key issues and trends transforming this sector will be incredibly valuable.  
In order to best navigate the changes in this sector, it's important to base your strategy on market trends. The upcoming Phocus Collection project, Tours and Activities Come of Age, provides insightful research and analysis into the use and views of distribution channels, distribution economics, connectivity and technology challenges, and mobile readiness. The research uncovers business profiles, use of technology, marketing and advertising, as well as key inhibitors and opportunities for the sector.  
Sponsor this Phocus Collection project and gain insight into the top challenges and priorities for 2016 and beyond.  
Sponsors will learn:
The size of the global tours, events and activities marketplace by supply and gross bookings, segmented by channel, supply and region
The use and view of various distribution channels
Connectivity and technology challenges
Vouchers, redemption and fraud trends
Pricing, yield and last-minute booking trends
Choose The Sponsorship That Supports Your Organization's Objectives  
Select the sponsorship that best suits your organization's goals. Deliverables can include (depending on sponsorship level):
Input into the survey
Findings, analysis and recommendations delivered as an in-depth slide presentation
Custom questions
Analyst presentation via private Webinar
Preferred branding and publicity acknowledgment for a white paper presenting select key findings from the study
Design Your Own Sponsorship Package
Let us create the sponsorship package that's right for your company.
Contact our team today: +1 860 350-4084 x501 • Email