Special Projects
Hail This! The Transformation of The Ground Transportation Experience for Travel
Hail This! The Transformation of The Ground Transportation Experience for Travel
A Phocuswright Special Project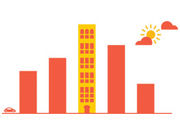 Hailing a cab on a busy street and waiting in long lines at a car rental agency could soon be memories of a time past. Every day, more and more business and leisure travelers are choosing opening an app on their smartphone over flagging down an open cab or standing behind five other travelers at a counter. The sharing economy and mobile-first services are already huge parts of the travel ecosystem and have the potential to affect almost every aspect of travel – and ground transportation is no exception.  
With this new generation of mobile-first users on the rise, traditional car rental and transportation providers must adapt and anticipate future traveler expectations. The upcoming Special Project, Hail This! The Transformation of The Ground Transportation Experience for Travel will provide an in-depth look into car rental, taxi, pre-arranged ground transportation and the impact of mobile hailing and ride-sharing services on the industry.  
Sponsor this Special Project to gain an unprecedented look at how mobile-first services are transforming the ground transportation experience. Understand how travelers' behavior around this segment is changing.
Sponsors will learn:
The size of the traveler population using these new transportation services
Segmentation by demographic, traveler type, transportation services used, trip type and destination
How consumers shop, reserve and pay for their transportation needs
Brand perceptions and ratings
Key pain points among travelers
Strategies for traditional car rental and transportation providers to adapt to and anticipate needs of their travelers
Choose The Sponsorship That Supports Your Organization's Objectives
Select the sponsorship that best suits your organization's goals. Deliverables can include (depending on sponsorship level):
Input into the project
Findings, analysis and recommendations delivered as an in-depth PowerPoint presentation
Analyst presentation via private webinar
Branding and publicity acknowledgement and rights
PDF copy of the summary report that can be shared internally and with members
Custom and Proprietary Questions
Custom data segmentation from consumer survey
Design Your Own Sponsorship Package
Let us create the sponsorship package that's right for your company.
Contact our team today: +1 860 350-4084 x501 • Email