Events
Phocuswright Innovation
Promoting innovation in the travel and tourism industry means supporting the startup community, constantly acquiring new knowledge, analyzing the global markets, trends and identifying breakthrough innovation and its impact on the travel industry.
Predicting which travel startups are destined for success is a complex task. In an industry dominated by large players and legacy technology, it's hard to know which ideas have staying power. Investor interest is one major factor, while others range from customer traction, to the scope and scale of strategic partnerships, to simply a startup's ability to capture attention in a crowded marketplace.
Phocuswright Innovation consists of multiple interactive and interconnected elements: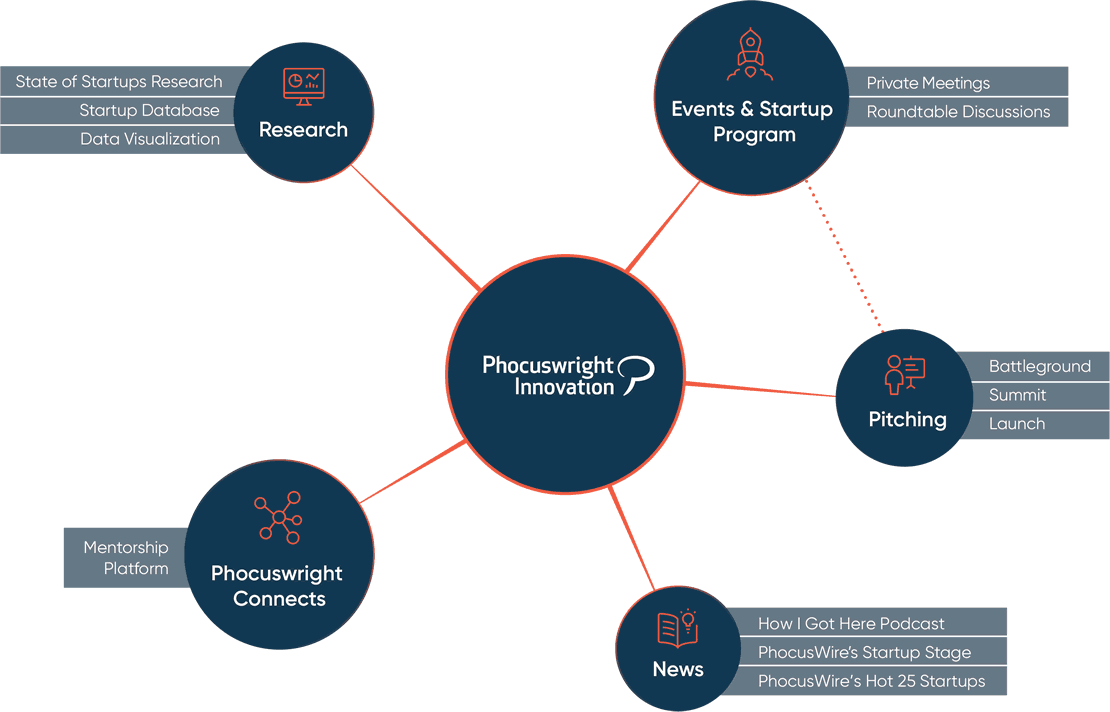 Phocuswright is at the forefront of innovation in the global travel, tourism and hospitality industry. Phocuswright Innovation is a suite of products for companies that seek, live and love travel technology innovation.
We bring travel industry leaders together with the most eager entrepreneurs.
Innovation Research
Phocuswright's Open Access research platform is the foundation for our entire coverage of innovation.
We've tracked the digital travel startup landscape for over a decade and our annual State of Startups report discusses the most significant technology-driven issues or developments shaping travel distribution in the course of the year and beyond.
The interactive State of Startups database contains over 3,000 companies founded since 2005 and allows subscribers to sort and filter the list of companies, visualize data in customizable charts, discover new companies and competitors, and uncover relationships between data points.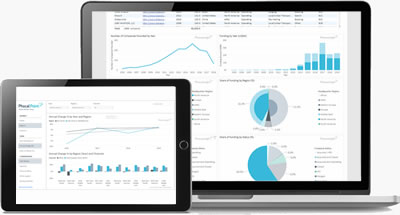 Events & Startup Program
Pitching isn't everything, nor is it the only thing. In recognition of this, we created the Phocuswright Startup Program, a curated networking platform, to connect startups with corporates and investors.
This program offers startups a brand-new alternative to network with the best in travel. In turn, investors and mentors gain direct access to a pool of the freshest startups and ideas in travel.
The Startup Program is held at Phocuswright Europe and the U.S.-based Phocuswright Conference. Accepted attendees participate in curated roundtable discussions with industry experts, office hours appointments with Startup Program mentors, inspiring presentations and intimate networking opportunities.
Pitch Competitions and More
Phocuswright's pitch events are a startup's gateway into the multi-billion dollar travel industry. Innovators who take the stage demonstrate new concepts, technologies and business models entering the scene.
Startups are the lifeblood of any industry. Phocuswright's expert analyst team selects participants based purely on their capabilities and potential to have breakthrough success.
Learn More:
Global Innovation Summit held during The Phocuswright Conference

Innovation: Launch is the stage for companies of any age that are breaking new ground and developing new technologies to advance the travel landscape.
Learn More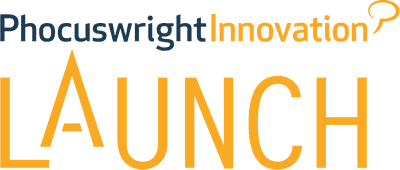 Pitching isn't everything, nor is it the only thing. In recognition of this, we created the Startup Program - a curated networking platform to connect startups with corporates and investors to foster real innovation.
Startup Program • Phocuswright Europe • The Phocuswright Conference
Summit features a panel of "Dragons" comprised of high-profile VCs and top-tier travel executives with vast experience in the travel startup ecosystem. Companies take the stage to impress the audience of industry leaders and investors, each hoping to win an award and notoriety.
An esteemed group of companies has taken the Phocuswright stage bringing countless innovations to the market and collectively raising over US$4.1B in the process.

Mentorship Program: Phocuswright Connects
Phocuswright Connects leverages our unique "culture of connection" for travel technology professionals through supported mentor relationships designed to help individuals and companies flourish across the entire ecosystem.
Learn more about our new mentorship program, Phocuswright Connects.
News Coverage
PhocusWire covers the complex and exciting world of travel startups from every angle: creation and funding rounds to acquisitions and pivots.
PhocusWire also features unique segments and editorial content:
How I Got Here: Weekly podcast aimed at getting the inside stories behind innovation and startups in travel and transportation.
Hot 25 Startups: Annual, curated list of startups that have the greatest potential to make a difference to their sector or market in the next 12 months.
Startup Stage: Showcases new brands under two years old in the market, including a profile interview with the founders to understand the background and strategy of the business.
Learn More About Phocuswright Innovation
To learn more about any innovation event or service, please contact us.